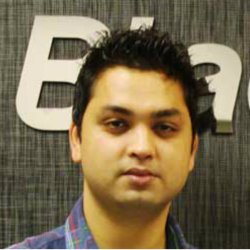 Amit Giri
"The time I spent at the University was one of the most exciting and challenging phases of my life. Every day was a new learning day that helped me develop my career and made me a strong individual."
What attracted you to choose Surrey and to study your course here?
Having completed an undergraduate degree in Information Technology, I wanted to facilitate my computer science background with advanced Information Security skills.
I choose the University of Surrey categorically for its strong academic reputation, course contents and world-class research work. The MSc Security Technologies and Applications course provides a basic and advanced understanding of the Information Security sphere.
The flexibility of the course not only aids students in gaining in depth Information Security skills, but also helps in strengthening other computing skills, such as networking and programming.
What is your strongest memory of your time at Surrey – what do you picture first when you think of being here?
The time I spent at the University was one of the most exciting and challenging phases of my life. Every day was a new learning day with new challenges that helped me develop my career and made me a strong individual, ready to face new trials in life with full enthusiasm.
When I think back to the university days, I picture myself sitting in the labs of the Austin Pearce Building with multi skilled classmates working on assignments.  It was an immense pleasure to work in a team, as it has broadened my skill set and compatibility to work with individuals with various skills and backgrounds.
What is the one thing you would say about Surrey (or your course) to someone who doesn't know anything about it?
Surrey is a great place to study and to make friends from different cultures and academic backgrounds. The University not only benefits you with world class teaching standards from academic personnel but also aids in developing an all-rounded comprehensive skill set which helps you in your subsequent career establishment.
How did you change as a person during your time as a Surrey postgraduate, and how has your time here influenced your life and career since then?
The Surrey postgraduate programme has transformed my life as an individual. The University has not only helped me academically, but the time spent during the course also prepared me for the professional life I started after completing my postgraduate degree. It has taught me how to face challenges individually as well as in a team and deliver the best, even when being under pressure of task fulfillment or deadline commitment. The various teaching methodologies, and the practical and theoretical knowledge I attained from the University has helped me to achieve success in my professional and personal life.
What has been your career highlight to date?
Every day of my work is different, exciting and crucial. My career highlight was when I received an invitation to Global Information Assurance Certification (GIAC) Advisory Board. Also, my daily tasks include giving advice to several technical and non-technical departments on the basis of my analysis.  It is a great honour being complimented by the management staff and colleagues for my performance.
What are your top tips for students aspiring to work in your profession?
Information Security is the profession where you will face new challenges and learn something new every day. It is easier said than done. It is most certainly an exciting career, where you will develop and fine tune technical and professional skills. The people working in this field are highly competent and inspirational. Solving complex problems will be a part of the daily task at work.  If an individual is focused, dedicated and willing to learn new technologies, they will be thrilled to be in this profession and would thoroughly enjoy every day of their work.
Discover our courses in computing, including our MSc Information Security.