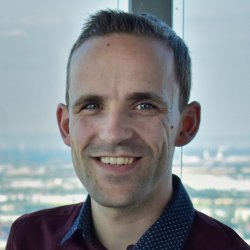 Andy Smith
Andy Smith, who studied for both his undergraduate and masters degrees in Surrey's Department of Computer Science, has recently become Team Lead at BBC iPlayer and BBC Sounds. We caught up with him to find out about his new role and how studying at Surrey gave him a headstart in his career.
Why did you choose to study computer science?
My interest in programming started back at secondary school when we were taught how to make a basic web page. After that I taught myself website development skills and enjoyed it so much that I decided to take Computing at A level and then continue with a BSc in Computer Science at university.
I chose Surrey partly because of its location on a lovely campus very close to a great town centre. I was also attracted to the course content which was more diverse and wider ranging compared to others.
What did you most enjoy about your course?
The fact that the course content was quite broad was great if you weren't sure exactly which area of computing you wanted to focus on, and the introductory modules in the first year helped to make sure everyone started off at the same level. I remember the lecturers being very welcoming and friendly. They did their best to ensure that everyone understood the course content.
I also really liked the opportunity to take a year out part-way through the course to have a year in industry, putting to use all the knowledge I'd gained so far and applying it in the 'real world'.
What have you done since graduating?
I was still keen to continue learning while also doing something for the public, and I was lucky enough to become a Graduate Software Engineer at the BBC. Since starting I've been promoted four times and for the past 18 months I've been a Software Engineering Team Lead, leading a team of developers working on the BBC iPlayer website.
In addition, I wanted to give back to the community and one of the ways I've done that is through STEM outreach – attending schools careers fairs and participating in BBC careers events for the under 18s. I've also become a BBC 'accessibility champion' which involves attending training on making websites as accessible as possible and sharing this knowledge both with my team and external companies.
Could you tell us a little about your new role as Team Lead for BBC iPlayer and BBC Sounds?
The BBC is one of the UK's most well-known and loved brands, and BBC iPlayer and BBC Sounds are two of its most important products. Like all the best product development teams, we make data-informed decisions, which is where my new role comes in. I've been asked to set up a new team of software engineers and data engineers who are responsible for automating the analysis of audience, usage data, helping the organisation to answer the important data questions to drive these products to be the best they can be for the audience.
"Day to day, I could be doing anything from building a website application in Amazon Web Services to show analysis results, through to supporting our product teams with adding analytics and running experience experiments."
How did studying at Surrey help you get where you are today?
My degree gave me the knowledge and experience I needed to stand out from the crowd when applying to the BBC's software engineering graduate scheme, and my MSc really helped give me a head start in my career as it covered crucial topics like the basics of Amazon Web Services.
Choosing Surrey was one of the best decisions I've ever made – if you're interested in programming or just computing in general, you can't go wrong with its Computer Science degree course. At the same time, if you're looking to start a career in programming, my advice would be to just get as much experience as you can from doing personal projects and coding for fun. Companies look for practice and a passion rather than the highest degree grades – although they help too!
Discover our courses in computer science, including our BSc Computer Science.