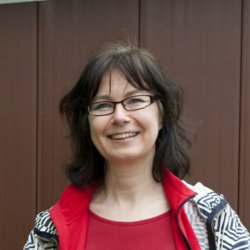 Annelie Nederberg
"My supervisor understands what it is to be a composer and researcher. He offers good advice."
Course
Music (Composition)
"Composing music is extremely important to me. My PhD is an opportunity to go deep into music and what it means.
I am doing practice-based research, which means using my compositions and performances as a way to research my topic. I hear music as physical movement, so my research concerns corporeality or traces of the human body in electronic music.
The main challenge is balancing the theory and the practice. They are both very interesting, but keeping them connected is not always easy.
The dance and music studios and equipment I need are very good here, and my supervisor is very supportive in pointing me to relevant theory and practice. As a practitioner himself, he also understands what it is to be a composer and researcher.
As a composer I work a lot on my own, but I also collaborate with dancers and choreographers, and have started a company with Joop Oonk who is a Masters student at the University. I am also developing collaborations with other postgraduate musicians and with the Digital World Research Centre.
I am aiming for a career as a composer, but a PhD also opens up a path into academia, and I see myself combining the two in the future, like most composers do."
Discover our music and sound programmes.