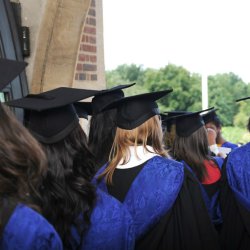 Antonia Richards Evans
"My course at Surrey equipped me with the research background - both theoretical and practical - I needed to have a headstart in the market research industry."
Antonia Richards Evans is a Reputation Researcher, and studied for an MSc International Relations. 
What attracted you to choose the University of Surrey and to study your course here?
Surrey was a well-regarded university with a good ranking position. I instantly liked the Politics Department and atmosphere of the campus and Surrey offered the course I wanted to pursue.
What is your strongest memory of your time at Surrey - what do you picture first when you think of being here?
The staff in the Politics Department and the amazing friendships I formed here.
What were the best things about your course?
The course was broad and there were a lot of different modules to choose from, allowing us to specialise in a specific area of politics. The assessments and seminars helped me develop my ability to form well-founded arguments and the ability to question and evaluate accepted knowledge.
What do you do now and what do you find most enjoyable about your line of work?
I work in reputation research, where I help clients measure their corporate reputations by developing and delivering comprehensive stakeholder opinion research. What I find most enjoyable is the methodical nature developing research programmes, whose results are then used to make a real difference to a company's business strategy.
How did you decide what career to go into? How did your time at Surrey help you to decide?
My course at Surrey equipped me with the research background - both theoretical and practical - I needed to have a headstart in the market research industry. The personal development I underwent through my course at Surrey has also given me a great deal of confidence in my ability to manage my own workload, contribute new ideas and to be a reliable team member.
If you completed a placement, can you tell us how this impacted upon your ability to get a graduate job?
My three-month placement at Standard Chartered gave me a great foundation upon which to market my professional skills by bolstering my CV and providing me with examples of my different professional competencies in practice. I think this helped my current employers trust in my ability to cope in a workplace environment and gave them reason to believe that I would succeed in this role.
What aspects of being connected with the alumni network are most important or of most interest to you and why?
Networking opportunities and being able to give upcoming graduates advice.
What are your top tips for students aspiring to work in your profession?
Academic research and market research are very different, so don't expect to be conducting research in the same way as you are at university.
Market research is not strictly a 9-to-5 job, as unpredictable hiccups happen in research and deadlines can be very tight. Be prepared to be flexible to changing demands and always prepare Plan B!
There are many different routes you can go down in market research - try not to specialise too early on and spend some time trying out different roles to find the one that suits you best.
Learn more about our degrees in the field of Politics.