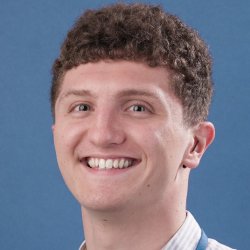 Cameron Huggins
"Surrey promoted Abbott to me when I was looking for a Professional Training placement. I'm now working there, so it's given me a great opportunity for my graduate career and beyond!"
Course
Biomedical Engineering MEng
Choosing Surrey
I was impressed with the campus and the facilities. Everyone was happy and welcoming, and I was excited by the passion and structure of the medical engineering staff and department.
I also liked the specialisation and focus of the engineering courses at Surrey, with subject-specific modules – such as medical – being introduced as early as Year 2. At other universities, the specific engineering disciplines felt like they were 'stuck on' at the end of a general engineering degree. This was much less appealing.
The ability to study general engineering principles in Year 1 and the flexibility to change course at the end of that year was a draw, too.
My course
I wanted to use my interest in maths and physics to learn engineering principles to help people with healthcare problems. My dad sent me a link for Surrey after searching for engineering-related courses online. That's how I found the MEng in Medical Engineering, which is now called MEng Biomedical Engineering.
My favourite parts of the course were the practical projects. These included:
The Design, Make, Evaluate Project: creating a prosthetic hand
The Group Design Project: creating an exoskeleton
The Multidisciplinary Design Project: creating an Advanced Precision Agriculture System
The Individual Project: using deep learning for Alzheimer's diagnosis.
Placement
Surrey promoted Abbott to me when I was looking for a Professional Training placement. While there, I was able to develop specific and transferable technical skills that are important in any workplace.
I was able to understand how I worked best and which areas of engineering I enjoyed the most. More importantly, I learnt about the ones I didn't!
It also enabled me to learn about the industry I wanted to work in, increase my workplace professionalism, soft skills and understand more about what my future career could look like.
I'm now working at Abbott, so it's given me a great opportunity for my graduate career and beyond!
Life at Surrey
I thoroughly enjoyed my time as a student here. One highlight was being the goalkeeper for the University Water Polo team! I lived in Manor Park, too, and the accommodation had all the facilities I needed during my first year.
Looking back at my excited 18-year-old self, I've matured a great deal and I've learnt a lot of life skills along the way!
Life after Surrey
I'm on the Professional Development Graduate Programme at Abbott, currently working at Abbott Diabetes Care in Witney, Oxfordshire. I gain so much fulfilment knowing the processes and products I'm working on help provide a better quality of life for diabetics across the globe. My future aspiration is to become an impactful leader in the healthcare industry!
Advice to students
I've come out of Surrey with unforgettable memories, tons of knowledge and skills, and a career I'm passionate about.
My top three tips would be:
Engage in your lectures, lessons and seminars from day one
Gain experience during internships and placements
Work hard and have fun – it's possible to do both and you'll succeed while making lifelong memories!
Find out more about studying in our School of Mechanical Engineering Sciences.