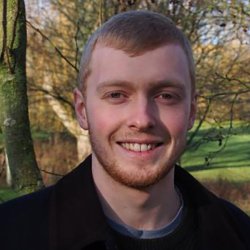 Dan McDowall
"What I enjoy most about the MRes course is spending large amounts of time performing research in the lab and getting to the bottom of a challenge."
"I was drawn to Surrey's MRes Chemistry course because it consists of 75 per cent research and 25 per cent teaching. From the year I had spent in industry during my undergraduate degree I knew that research was something I wanted to pursue. Also, after years of studying, I must admit that the less exam-focused balance of the course appealed to me.
I am interested in petroleum and oil based chemistry, so another reason I came to Surrey was that one of the supervisors in the Department of Chemistry, Professor Spencer Taylor, is an expert in this field.
As a result, I've been able to focus on my specific area of interest during the year-long research project which makes up three quarters of the course. I've carried this project out in collaboration with my supervisor and an industrial company, Quadrise – which specialises in refinery residue in water emulsions to be used as fuel – with whom we have weekly skype calls.
My project investigates the production of an alternative type of fuel for power plants and marine engines which could offer a more cost-effective and environmentally-friendly solution than the heavy fuel oil currently used.
What I enjoy most about the MRes course is spending large amounts of time performing research in the lab and getting to the bottom of a challenge. One of the things about research is that when you discover the answer to one problem, it tends to open up a lot more questions – which definitely keeps things interesting.
I've found the academic staff on my programme very helpful and the teaching is really good. As well as enabling you to gain technical knowledge, the MRes course also builds your research and workplace skills. One of the modules I've found most useful is Management, Communication and IT Skills, which covers topics such as project planning, creating a Gantt chart and using referencing software.
The facilities at Surrey are impressive. I'm lucky to be able to spend most of my time in the Centre for Petroleum and Surface Chemistry laboratory which is a state-of-the-art facility for my field of chemistry.
The MRes is a bit like the first year of a PhD: you get 12 months of very research-focused experience. I'd say to anyone considering doing the course that you should be prepared to work a full day and a full working week in order to get the most out of it. My next step after completing the programme will hopefully be a research job in industry where I'll be able to apply my skills and knowledge to complex challenges."
Discover our programmes in Chemistry, including our MRes Chemistry course.