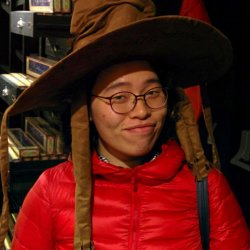 Danni Wang
"The lecturers for my programme are experienced and helpful. They provide us with many case studies and advise us on how to work on our projects."
Course
International Hospitality Management (EuroMasters)
"I chose the University of Surrey because it is ranked number one in the UK for Hospitality Management. Also, the programme is two years long, which I thought would give me many opportunities to see Western countries and have different experiences. Additionally, I thought the location of Surrey would help me to get a good internship in London during my placement period.
I studied an undergraduate degree in tourism and hospitality and I have many interests in this area. The hospitality industry is always changing, so there are many things to explore and investigate.
Many modules on my programme are related to current issues and the assignments require a lot of research. This has required me to read more and search for information through different resources. This is the hardest part of the programme for me, but I enjoy it most as it helps me to grow and improve my knowledge.
The lecturers for my programme are experienced and helpful. They provide us with many case studies and advise us on how to work on our projects. Usually you can look for advice from them during their office hours after class.
I stayed in Band B University accommodation, which is located in Guildford Court. It was really close to the main campus and was very convenient during the exam period and when I needed to urgently print something out. Also, I did not need to worry about being late for classes. I met many nice flatmates in my accommodation and it was good for me to build friendships with more people during my university life.
"The thing I love most here is that I have met a lot of people from different countries."
During the weekends, I usually go to London to have a short relaxation with my friends; we look for different restaurants to enjoy the nice food.
We have also been to Oxford and Portsmouth. The train system in the UK is really convenient for us to get around. We are planning some places further like Cardiff or Edinburgh in the future. 
During the holidays, I have visited Finland and Iceland with my family. It was really nice for me to fly there in such a short time and I enjoyed the extreme coldness with all those ice activities and aurora lights. I loved visiting all these places whilst in the UK and I will definitely arrange more trips to other cities with my friends.
Since starting the University of Surrey, I have become more open through being friends with many Western people. They have taught me how to show your feelings directly and express your emotions. I now understand more cultures and I have learned many interesting things about different countries.
I would like to stay in the UK for a while to work in a hotel or a restaurant to understand the difference between Western and Asian management ways. I really appreciate what Surrey has provided me, academically and personally, and I have never regretted choosing to study here."
Discover more about our hospitality, events, tourism and transport programmes, including MSc International Hospitality Management.