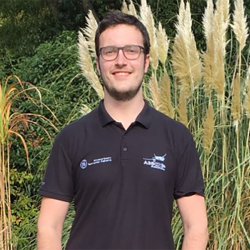 David Chaplin
"We're lucky to have facilities that aren't available at a lot of universities, with the opportunity to use them from the very start."
Course
Aerospace Engineering
"Engineering has always stood out for me as a discipline I wanted to be involved in. From a young age I was interested in making things and developing my practical skills.
Fast forward ten years and I'm still doing the same – only with slightly less improvisation! I decided to study aerospace engineering because it's an industry with a lot of potential to develop further – with new materials and manufacturing technologies continuing to provide engineering opportunities that were previously thought impossible.
Some of my favourite aspects of the Aerospace Engineering programme are the more practically oriented modules, which include learning how to use CAD and Stress Analysis tools, and getting hands-on in the workshop.
Group projects have also been a highlight – it's great to have the opportunity to apply the concepts discussed in lectures to real world applications in team environments, much like you might find in industry.
We're lucky to have facilities that aren't available at a lot of universities, with the opportunity to use them from the very start. These include an expansive workshop with experienced full-time technicians, a designated Formula Student area, simulators, undergraduate labs, wind tunnels and a Design Centre, to name just a few.
I originally chose to come to the University of Surrey because of its reputation for securing Professional Training placements for students. Few universities support their placement scheme in the way Surrey does – by helping students to find a placement and go through the interview process, through to supporting them when out on their placement year.
I'm currently on my Professional Training placement at GE Aviation near Southampton, and am thoroughly enjoying it. It's a relief to find out at first hand that the content I've been learning in lectures is relevant in the workplace, and I'm continuing to learn a great deal by working in industry.
"I think that one of the best things about life at Surrey is how connected the campus feels. With everything in one place, it really does feel like a tight-knit community."
Only three months in, I'm already feeling far better prepared for graduation than I expected, and it's nice that the bank balance is going up for a change!
Simple things like being able to go and enjoy the lake during the summer make a big difference. In my first year I shared an on-campus flat with five other people which was very convenient with fantastic communal areas for cooking and socialising – and being able to leave five minutes before a lecture wasn't bad either!
I'm still not entirely sure what I want to do when I graduate. Being on placement is giving me a valuable insight into the industry as a whole, and shown me just how broadly engineering can be applied to numerous different applications. Thankfully, the difficulty is having too many options rather than too few."
Discover more about our mechanical engineering programmes, including our programmes in MEng Aerospace Engineering.