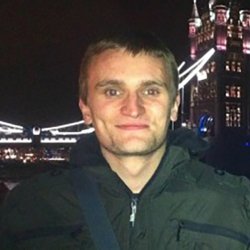 David Southgate
"I now feel more confident and capable of undertaking both research and teaching as a result of the skills I have developed at Surrey."
"I studied my undergraduate degree in politics at the University of Lincoln and completed my Masters in International Relations at Surrey. 
It has been both exciting and challenging studying at Surrey. When I decided to do a PhD in politics I wanted to push my boundaries and expand my knowledge in a complex subject whilst developing myself as an individual. Surrey has certainly helped catalyse those opportunities for my own personal and professional development.
I enjoy studying here and have overcome the challenges of PhD research. The assistance of the team here at Surrey has been essential in fostering this sense of satisfaction and achievement.
I really connect with the academics here at Surrey and the University provides a huge amount of opportunity and resources to help researchers attain both academic and extra-curricular success. My supervisors are essential and have provided me with good guidance, support and advice, which has really helped me develop as a researcher and individual. I have regular meetings with both of my supervisors and they give clear, concise and constructive feedback which I take forward with me into my research and professional development.
I have volunteered with undergraduates as a STARs mentor, using the vast resources and support of the researcher development team. I have studied to develop my further teaching skills under the guidance of the Higher Education Department and used the general resources of the University such as the Library. The resources here at Surrey are fantastic and for postgraduate researchers there are a vast array of opportunities to engage with the University at all levels and expand your own horizons.
There are many opportunities for collaboration as part of my PhD. In my first year I had already been in talks about collaborative publications both here at Surrey and elsewhere, and attended two researcher development conferences with professional bodies. I intend to take part in numerous other professional conferences in the near future. 
I am most proud of my capability to challenge myself. I have engaged with the top academics in my field and been involved with discussions at the forefront of this subject requiring a high level of presentational, organisational, and time management skills. I have improved all of these skills at Surrey and tested them in a professional context. I now feel more confident and capable of undertaking both research and teaching as a result of the skills I have developed at Surrey and because every day I get an opportunity to challenge myself to do something new and exciting.
The available opportunities for extra-curricular activities and multiple resources here at Surrey are of great importance. It cannot be understated how important it is that the resources are there for students to constructively push themselves and leave Surrey with more than just a degree."
Discover our programmes in politics including our PhD in Politics.