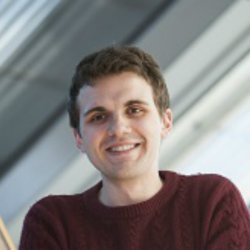 Dominic Meyer
"While an increasing number of universities offer similar opportunities, Surrey is the best because it provides lots of help in finding placements and it has excellent relationships with many companies."
Course
Mathematics with Music
Placement company
Analytical Services Group (ASG)
"I chose to spend my Professional Training year with HEFCE (The Higher Education Funding Council for England) because of its relevance to students and because it genuinely sounded interesting. I gained a wealth of valuable expertise on placement. I joined the organisation's Analytical Services Group (ASG), where my main tasks were to deal with enquiries, write complex code to analyse data, and help to release data surveys to UK institutions.
As part of ASG's Funding and Monitoring Data sub-team, which liaises with every institution in the UK, I had the chance to develop excellent communication and teamwork skills.
I also gained a lot of technical expertise, learning SAS coding language as well as an advanced knowledge in Microsoft Excel – which is ubiquitous in today's business world.
Over and above these skills, I acquired a certain professionalism which has affected the way I talk to people and how I approach a task. I'm really proud of the amount of work I managed to achieve. On a number of occasions I went beyond the call of duty and this was recognised by my managers.
When I applied to Surrey, I initially enrolled on the three-year BSc; however I opted to move to the four-year course soon after arrival. I didn't think too much about the work placement year beforehand but, having done my research, I realised that Surrey was the leading university when it comes to Professional Training.
I'm extremely grateful I made the decision to come here. While an increasing number of universities offer a similar opportunity, in my opinion Surrey is the best in that it provides a lot of help in finding a placement and has an excellent relationship with many companies.
Surrey also offered something else that can't be found in many universities: the opportunity to study Maths and Music together, combining my two passions. I loved Maths A-Level and I knew that maths was a good choice in terms of a career, but I loved music as well and wasn't prepared to drop it. Studying both subjects can be challenging – when you are trying to balance work with rehearsals for example – but ultimately it has been very rewarding and the perfect choice for me."
Why not explore Surrey's mathematics programmes, including our BSc Mathematics with Music.