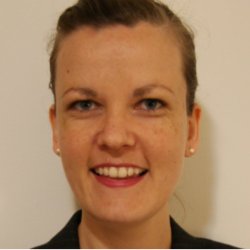 Dorothée Coupat
Dorothée Coupat is an alumna of BSc International Hospitality & Tourism Management. Since leaving Surrey, she has moved to Canada and founded her own company, 'Menu A La Carte', which provides translation services for the hospitality sector.
Course
International Hospitality and Tourism Management
What attracted you to choose the University of Surrey and to study your particular course here?
Having been raised abroad my whole life and going to International and American schools I wished to continue my studies in English. I looked into schools in Australia, the US and the UK.
In the end I opted for the UK because I would be closer to my three older siblings, two of whom had attended the University of Surrey. My eldest sister had actually completed the same course I signed up for.
As for the International Hospitality and Tourism Management degree… Well, the possibilities of traveling around the world for my job were something that was important for me at that time and management was a subject that interested me. This course allowed me to possibly have a future career that would combine the two.
The University of Surrey's proximity to London was nice too.
What is your strongest memory of your time at Surrey – what do you picture first when you think of being here?
First and foremost friendships! I met two very close friends of mine on the very first day I was there, getting lost actually looking for a classroom.
The campus was beautiful and Guildford a friendly town. Also the setting of classes and the level of education provided was great.
And also, Surrey allowed me to fulfill a dream, to study abroad in the USA. I was selected as one of the few students able to take up this opportunity and spent a semester at Michigan State University. It was an amazing experience.
What is the one thing you would say about Surrey, or the course you studied, to someone who doesn't know anything about it?
Due to its hands-on approach in the first year of working at the restaurant, it gives you a real idea of the industry. Then, the following years are well-rounded, teaching you the basis of every aspect of what it means to work in a hotel for example and how to manage teams. This base is then completed by professional experience. I was able to get my first job in a Parisian palace after graduation due to the Professional Training placement year I did while studying at Surrey.
How did you change as a person during your time as a Surrey student, and how has your time here influenced your life and career since then?
I became independent as my parents were living in China at the time. So I really needed to take care of myself! My time at Surrey allowed me to build life-long friendships and I think it is a very big part of the university experience; they become your family, your support.
But professionally it has taught me rigour and attention to detail, which is key in managing clients.
What do you do now? What you find most enjoyable about your line of work and why?
After years of working in hotels, I launched my own business in 2008 and I have been working full time since 2011. I manage a translation service specialized in hotel, restaurant, tourism and spa translations. Projects vary from translating menus, to websites, promotions, in-room magazines, hotel directories, etc. My service is offered primarily in French and English as well as other languages like Russian, German or Japanese through a team of selected freelancers.
My clients range from Parisian palaces, airport food courts and chain airport hotels, to individually owned restaurants and are located internationally.
For more information my website is: www.menu-alacarte.com
What are your top tips for students aspiring to work in your profession?
I think when an individual chooses to sign up for a degree at age 17 or 18 they might not necessarily know exactly what they want in life. So staying open-minded and true to yourself is key in your 20s.
After graduating, you may decide to work in a hotel, front or back office, and you may love it and make a career out of it. But if you are not fulfilled working in a hotel or a restaurant, but still want to have a foot in the industry, there are other related options such as consulting, travel writing, hotel interior design, etc.
My degree's management background did not only give me opportunities to work in hotels, I also worked in a relocation firm, where I was able to apply many things taught at university and also in my experiences in hotels.
Is remaining connected with the alumni network important to you?
Yes it is. I would love to be more involved in alumni activities, come and give speeches about my time at Surrey and what I have done since. Unfortunately I now live in Canada and very rarely come back to the UK. But yes. I am part of the Alumni LinkedIn groups and I have stayed in touch with my main university friends and some professors too.
Networking, whether it is with the alumni community or simply keeping in touch with former colleagues is very important to me. Helping one another evolve is very good.