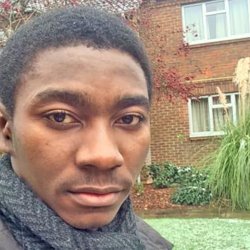 Ebuka Ntube
"The MSc course has given me the theoretical tools and practical approach I need to help promote a sustainable development structure in Nigeria."
Course
Sustainable Development
In my home country, Nigeria, there is a great need for stable and sustainable development to enable people to make the most of available natural resources and help alleviate social and economic problems such as poverty, unemployment and insecurity.
Before coming to Surrey, I had the opportunity of working as a Manager at NECS United Nigeria Ltd, a private corporation in the building and plumbing sector that aims to provide materials and services for the well being of humans and the environment.
"I've found the teaching methods used by Surrey's high profile professors and lecturers to be very interactive, inspiring and illuminating."
In the course of my involvement with the company, I saw the need for an in-depth knowledge of sustainable methods to help make an impact, both for business and for society.
An aspect I have found very interesting in the course of my MSc study is envisioning humans as part of the environment, underlining their dependency on nature for survival. 
As part of the course, I conducted an industrial placement at the Diocese of London, which covers numerous parishes and chaplaincies within Greater London, and is highly renowned for its involvement in sustainable development activities. I worked closely with the environmental and sustainability development team whose mission is to oversee the development and maintenance of various environmental and sustainable strategies across the Diocese.
One of the highlights of my industrial placement was the opportunity to manage the design, development and realisation of a project. Taking up this role at the same time as my dissertation project has taught me to multitask and be proactive and resourceful. I have also learnt how to anticipate and respond to future policy developments, understand stakeholders' roles and develop problem-solving and decision-making skills.
The MSc programme has given me the theoretical tools and practical approach I need to help promote a sustainable development structure in Nigeria, including the ability to diligently evaluate the technical, social, economic and organisational elements of environmental problems. The course has also exposed me to other interesting career routes – such as establishing a social enterprise, environmental consultancy, and environmental and social activism."
Discover more about our environment and sustainability programmes, including our MSc Sustainable Development.