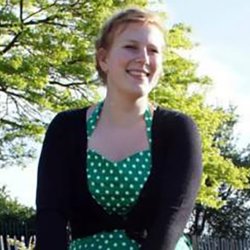 Emily James
"I really like the fact that my research has a real life application and I'm working on that application right now."
"I come from a small town so I didn't want to go to university in central London but somewhere nearby – Guildford was the perfect option, a beautiful town with good rail links and a great university. The campus is a beautiful atmosphere to work in and I liked the fact that the University seemed green and environmentally friendly – that's important to me.
Once I'd got an offer I attended an Applicant Day so I could experience the campus and loved it. I've since worked some of the Open Days and love chatting to prospective students and parents and sharing my wisdom.
I liked that you can achieve an undergraduate masters in chemistry (MChem) in only four years and it includes a Professional Training Year – I feel that experiencing chemistry in the real world is vital to applying what you've learnt in a real life setting.
The highlights of the programme for me were the placement year and the final year project. I went to Germany to work for a company called Grace Davison and it was great to not only work on an independent project but to also do that while experiencing a different culture and learning a new language. I got the opportunity to travel and visit many new places!
The final year project was a great chance to work on something independently; it taught me to manage my time effectively and that planning is vital.
I'm now completing a PhD which is part of a European project working on commercialising a natural product. I've had the chance to spend a month researching with one of the partners in Switzerland on an organic vineyard and go to several group meetings and conferences abroad, using the German and travel skills I learnt on my placement. I really like the fact that my research has a real life application and I'm working on that application right now.
I've lived in a lot of places while studying at Surrey - Cathedral court, Manor Park, Stag Hill and now in a university-managed flat with my partner. I loved living in Manor Park as it's close to the Sports Park and the facilities are great. I had a great view of Guildford town from my Stag Hill flat.
"Guildford also has possibly one of the best gig venues and independent artist studios around – the Boileroom, which I love."
My current flat is right next to the train station so it's perfect for travelling into London or back home up to the Midlands. 
I am also a member of the Postgraduate Society and Garden Society. I helped found the Garden Society in the first year of my PhD – it's a great place to get away from everything and spend time outside close to nature.
The Postgraduate Society is a really great society to meet other postgrads – it can be quite isolating being a PhD researcher – so it's great that there's a place to socialise and see what other people are researching in the university. I'm on the committee for the Postgraduate Society this year and one of my main aims is to improve the wellbeing of postgraduates. I love being part of societies; it helps with life skills outside of research.
Since I arrived at Surrey, I've become more confident and a lot better at public speaking. I've really grown up and matured here – after all, I've spent a good chunk of my life here now!"
Read more about our undergraduate chemistry programmes and our postgraduate research programmes.