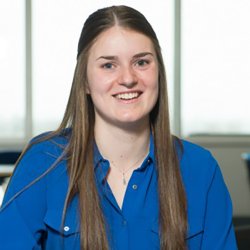 Emily Rastrick
"Knowing the Department of Chemistry and getting along with the staff made me want to stay at Surrey to complete my PhD."
"I am passionate about my field of study as it is becoming increasingly important with regards to radioactive waste disposal. It is also different to my undergraduate degree so I can extend my knowledge and abilities. I wanted to do a PhD in order to progress further within the field and get the job I have been working towards. 
I completed my Chemistry MChem degree at the University of Surrey. Knowing the Department of Chemistry and getting along with the staff made me want to stay at Surrey to complete my PhD. 
Radiochemistry is a new research area to the Department so it will be great to see the group develop in the future. 
The work required for a PhD has been challenging but as the Department is a relatively small group of postgraduate students, it is nice to have the support around you. There is always someone to ask for help, whether that is a fellow student or an academic. 
"My supervisors have been enthusiastic towards the project and will push me to achieve the highest standard."
Supervisors have encouraged collaborations between departments in order to make the use of resources across campus. The University also works closely with the National Physical Laboratory (NPL) and this has been an opportunity to use their facilities and gain from staff and students' expertise at this institution. 
My PhD is part-funded by CEBAMA which is a European project in which there are a number of companies and universities who work together towards the same outcome. Collaborating with members of this project is essential in order to accomplish what was set out to be achieved. There is the chance to travel as well, to the relevant conferences and meetings with the most recent meeting being held in Helsinki. 
The achievement I am proudest of during my PhD experience so far was being elected as a PGR representative for the Department and being given the opportunity to chair meetings for Faculty PGR representatives, as I never believed myself to be confident enough for this role. 
Surrey Sports Park is a great facility to use after a day at university so it is even more appealing being only a short walk away from campus. 
Guildford is a great town to explore too; there are shops, cafés and restaurants to suit everyone. I have been making the most of the quick train to London to visit the attractions as well as using it as a changing point to go further afield. Surrounding areas within Surrey are also great to explore to get away from the busy town and university life.
Following my PhD I plan to find a trainee patent attorney position which is what I have been planning to do since starting my undergraduate degree. The PhD will hopefully aid my application due to the competitive job market."
Discover more about our chemistry programmes, including our PhD Chemistry.