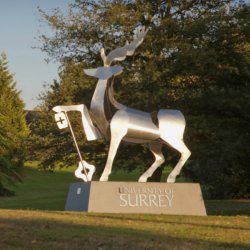 Guillermo Huertas
"I got to study Japanese and spent an entire year working as a corporate travel coordinator and business developer for a large tour operator in Tokyo, Japan."
"I have been studying at the University of Surrey for about four years and as of today I can confidently say it has been one of the best decisions of my life. Back in the day, I applied to Surrey since it was the best university for tourism and hospitality studies both in the UK and Europe and within the top five in the world. I am proud that it continues being that way!
Surrey offers much more than high ranks in tables. The teaching methodology aims to develop your critical and analytical skills so that you can identify and solve the issues in the industry. You are not expected to just sit down, memorise and repeat, but to question the very core and pillars of the sector.
That is the biggest competitive advantage and most valuable skill that I have developed throughout my studies.
Fortunately, you are also provided with a lot of support and opportunities to enhance your employability skills. Not only the lectures and the modules are designed from an international perspective, but also the great mix of nationalities among my course mates made me broaden my horizons. Thanks to the additional Global Graduate Award language courses I got to study Japanese, and together with the support I received from my professors, I even managed to spend an entire year working as a corporate travel coordinator and business developer for a large tour operator in Tokyo, Japan. The extensive network and reputation that Surrey has in the industry definitely had a huge impact on my career development.
In addition, this year I became the course representative of our course as well as the head representative of the School of Hospitality and Tourism. As challenging it may be, you also get other perks such as attending networking events. Recently I attended the Annual Alumni Guest Lecture at Four Seasons Trinity Square in London, where it was discussed the future of the hospitality industry in relation to the coming generations. Besides getting to learn first-hand where the sector is shifting, it was an excellent chance to meet other professors, alumni and some leaders in the tourism and hospitality industry. The professionals I met, as well as the ideas that we discussed, were a great and insightful way to help me achieve my career aspirations after graduation."
Discover our hospitality, events, tourism and transport programmes including our BSc International Hospitality and Tourism Management.