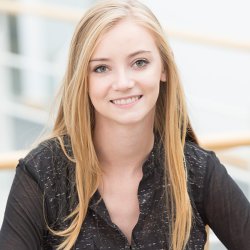 Holly Boothroyd
"For me, learning to be on my own – 5000 miles from home – has been my greatest achievement. I had to learn to adapt to a new culture, new food, new words... new everything!"
Course
Computing and Information Technology
Placement company
Microsoft
Now in the final year of my Computing and Information Technology degree, I chose to come to Surrey because it's a highly ranked University with incredibly well qualified staff, and a fantastic employability rating. The University of Surrey offered me an education that I could not find in America. It is a highly-ranked University with incredibly qualified staff and the Professional Training placement was an incredibly attractive offer as it has allowed me to bypass the common struggle of not having experience to get a job, but not being able to get experience because I don't have a job.
The employability rating of the University is fantastic. I attended an applicant day at Surrey and it was nice to meet the staff and see the campus and facilities more in-depth. It gets you excited and invested in the University.
I have been playing video games since I was a very young child. It was trying to think about what would improve the gameplay that got me interested in the mechanics and how the game actually works. I have always been really interested in game development, and it gives me the best excuse to play games as well. After all, it is research!
I like to solve puzzles and, in my mind, that is exactly what programming is. It can be tiring and confusing, but the level of satisfaction that is granted when you figure the problem out and your code works is like nothing else. It is like being a magician of the 21st century. You are able to manipulate and control one of the most fundamental aspects of modern society.
The lecturers and supporting staff are on my programme are great. They are invested in your education and success, and I really appreciate how, unlike in America, the lecturers actually come to labs and grade your work. They know how well you are doing and what you need help with, making it a more personal relationship. The facilities in the Department of Computer Science improve every year.
I have successfully established myself in a new environment and managed to maintain a first in all my classes.
We have dedicated labs for computing students, and Surrey also has one of the only cyber security labs in England, making it a top choice if you're interested in this topic. Our tutors are top researchers in their field, which means that we learn the latest knowledge in the computing industry. I really enjoy the practical elements of my degree. For example, each year we have a programming module in which we learn to follow the full software development lifecycle by designing, prototyping and implementing a piece of software.
The University is in a prime location to get to town and outside of Guildford. There is plenty to do if you look for it. There is almost always an event to go to or a night-out to attend somewhere in Guildford.
I have been able to get to know myself whilst being at Surrey. Leaving home has given me the opportunity to make decisions for myself and discover the best lifestyle for me.
Placement experience
The Professional Training placement programme is also a great reason to come to Surrey as it allows you to bypass the common struggle of not having the experience to get a job, but not being able to get experience because you don't have a job.
Since I was little, I always wanted to work at Microsoft, so when it came to applying for a Professional Training placement at the beginning of my second year, that was my goal. After a long selection process, I was invited to an assessment day for a software engineering role at one of Microsoft's three cutting edge studios: Lionhead, Rare and Lift London.
"Code I have written is currently on 400 million computers."
I was ecstatic when I saw the 'congratulations' email telling me I'd been selected for a placement: it was the start of an incredible journey.
I spent a year working as a software engineer in a team focused on reinventing the classic MS Paint into the transformative Paint 3D. I then went to Washington in the US, where I spent a summer working in the company's Xbox team. Working for Microsoft gave me lots of responsibility and I got to work on some very exciting projects such as the global announcement of Paint 3D in the Creator's Update announcement in New York.
My biggest achievement is knowing that I made an impact on people's lives. I have worked on a project that will have a legacy, and is helping children, students and adults to express themselves creatively through a new medium.
During my placement I was offered jobs with Microsoft in both the UK and US, and I'm now looking forward to joining Microsoft's UK-based Paint 3D team in a full-time role when I graduate.