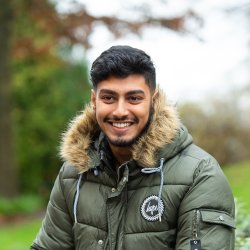 Jamal Hasan
"During my time at Surrey, I have become more confident, independent, and culturally aware." 
Course
Biomedical Science BSc (Hons)
"As I would be moving away from home, I wanted a campus-based university because it would provide a more community-like environment where I could easily meet and make friends. 
Living at Twyford Court during my first year was an amazing experience. Credit is due to my flatmates, with whom I found myself sharing my second-year home. The best thing about living in University accommodation is the ease of having everything close-by – 9am starts aren't so daunting when you can roll out of bed at 8:50am and still be on time.
The broadness of my course offers the opportunity to build many transferable skills, providing the option to venture away from the typical career path. During my time at the University of Surrey, an entire new building designated to performing practical laboratory work has been built, so it's safe to say the facilities are up-to-date with plenty of space to accommodate students and help them grow their skills. 
I carried out my placement year in Barcelona working at an anti-doping lab, where I was required to test samples provided by athletes for performance enhancement drugs. The workplace beach front views and travelling around Europe during my spare time were definite highlights of the year. Going on placement provides you with vital work experience, and a feel for where your career path could take you. Equally, it helps you grow as a person, boost your confidence and improve social skills. Being abroad also broadens your cultural awareness and there's always the option to improve or learn a new language.
"I swapped the rugby boots for dance lessons."
During my first two years, I was a member of Surrey's rugby club, which has played a large role in making my University experience as great as it has been. In my final year, I was unable to commit to the club so I swapped the rugby boots for dance lessons at the Salsa and Bachata Society, and I found myself performing at the annual gala night.
I also took up the opportunity to learn and improve my Spanish through the Global Graduate Award. These three things combined have shaped my experience at Surrey for the better, especially when exam and coursework pressure becomes heavy.
Although I have many best moments, including my placement year and involvement in societies and clubs, campus life during first year would take the award – living with 12 people was very fun. During my time at Surrey, I have become more confident, independent, and culturally aware."
Discover more about our courses in biosciences and medicine, including our BSc (Hons) Biomedical Science.