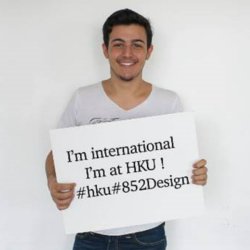 Jean-Stanislas Bertheol
"Hong Kong was a real gift. Not only did I celebrate my birthday there but I did so with new found friends from all over the world."
Course
International Business Management
Study abroad location
The University of Hong Kong (HKU)
"On my first day, I met Americans, Scandinavians, French, British and many "mainlanders" as we call the Chinese from outside HK. The university I went to, the famous HKU, is older than HK independence and you can feel it, however it is full of life at any given hour.
The diversity of courses offered allows you to study anything you want, which is great because it allowed me to launch a fashion start-up with local manufacturers. Nevertheless, the real gift of this exchange was the HK lifestyle in itself.
The city is vibrant and while it shows many attributes of its colonial past, you can definitely see the traditional Chinese culture. If you happen to be bored of the city, in less than 20 minutes on the MTR (HK tube) you can find yourself in the jungle, on another island or in the mountains. It's easy to wake up at 9 AM, go on a hike and come back for your 2 PM tutorial. Hikes are the best part of HK, for a bit of sweat with a few friends it can reward you with unforgettable views and memories. Finally, travelling in Asia is so cheap that you can't say no to it.
During my exchange, I had the chance to go to China, Singapore, the Philippines and as I'm writing this, I'm in Japan, about to go to Myanmar, Thailand and Laos before coming back to Europe. All the beautiful things mentioned above are why I believe that compared to all the other places you could go on exchange (and where some of my friends have gone), Hong Kong is without a doubt the best exchange ever."
Discover our courses in business, including out BSc International Business Management.