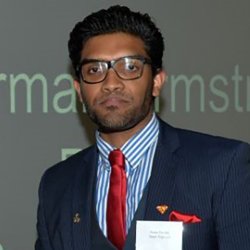 Kevin Patrick
"Surrey gave me the flexibility to run and develop my business whilst gaining a respectable degree from one of the top ten universities in the UK."
Course
International Business Management
"I am currently the founder and director of Team Tops Ltd and Co-founder and partner at Legacy Performance Sportswear. I gained my BSc in International Business Management from the University of Surrey and graduated in 2014.
I have been running my own business since the age of 14 and expanded my ventures ever since. I was awarded the worlds' youngest entrepreneurs by Barclays in August 2008 at the age of 15. I was the president of the Entrepreneur Society at the University of Surrey and headed up some of the most successful events the society has ever seen. 
For me personally, I believe starting and managing your own business is the most exciting and interesting job you could have, especially after earning a degree in business.
Business is all about vision, belief and hard work. As a student of business you must be able to plan and set yourself goals. You must feel motivated by your vision and work hard to make it come true. Believing in yourself is crucial, as you may face obstacles that may knock your confidence. You must also not be scared of challenges and must be able to adapt as and when is required. In my opinion, I feel Surrey promotes a sense of independence which means students are faced with challenges regularly and therefore need to adapt to different situations.
Surrey Business School played a vital role in creating real-life scenarios in which we could learn important skills, ranging from teamwork and delegation to multi-tasking and meeting assignment deadlines. It helped create a platform for me to experiment with business practices that I learnt along the way. 
My course covered many interesting areas that helped me gain knowledge of new concepts. Additionally the incredible facilities complimented this and allowed for a more enhanced academic experience.
My time at university not only gave me an academic advantage but also on an interpersonal level, I met a number of incredible and influential people, who have helped in some form or with regards to life beyond work and study. I will always be grateful for the people I met and friends I have made over the 3 years.
Surrey gave me the flexibility to run and develop my business whilst gaining a respectable degree from one of the top 10 Universities in the UK. In regards to life; I have made some lifelong friends and met my supportive and super-helpful girlfriend!"
Discover more about our business and management programmes, including our BSc International Business Management.