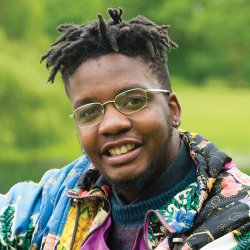 Khulani Gavin Nyathi
"The diversity on campus is enthralling. I learn something about a different culture everyday."
Course
Sociology
Study abroad location
University of Maryland, USA
"Sociology is relevant in everyday life. Whether it be deviance, mental health, our roles in society, creative industries or political theory. Sociology encourages critical thought which challenges the status quo and affects government policy. Critical thought suits my personality - that's why I chose this programme.
The staff in my Department have an open door policy which is very welcoming. If I am struggling with an essay or have a question about my studies, all I have to do is knock. They are the Crème de la Crème.
I co-founded the Sociology Society and am on the committee for the Dodgeball Club. I was also part of a Boxing Club in America and a Running Club in Singapore. All of these clubs have added to my organisational skills and time management. I just got back from tour with the Dodgeball Club in Croatia and it was an eye opening experience.
The University of Surrey is a place where you can shape your future. They university gives you the tools to do so - how you use these tools is what makes your Surrey experience unique.
I undertook a Professional Training placement as a Special Educational Needs Teaching Assistant in a school for children aged eleven to fourteen.
My work involved supporting students with special educational needs in literacy-based subjects. I would often work with them on a one-to-one basis as well as work with larger mixed-ability groups. It was challenging at some points but the rewards were immeasurable. I think everyone should at least apply for a placement. The application process builds character and allows for self-discovery and reflection.
I made the decision to come to Surrey because of the international opportunities for personal development. During my time at Surrey I have studied at the University of Maryland in the US as well as Nanyang Technological University in Singapore. My experiences abroad have made me grow in ways I never thought were possible.
The highlight of my experience studying abroad was when I met Ice Cube on campus. In the following week, Obama came to campus for a basketball game. He waved at me. Well, at least I think he did! Regardless, he waved and I was in the same direction.
The International Relations Office in Surrey is impressive. The team is professional, efficient and very good at building strong relationships with other offices in different countries. This makes the international student experience more fluid."
Explore our sociology programmes, including our BSc Sociology.