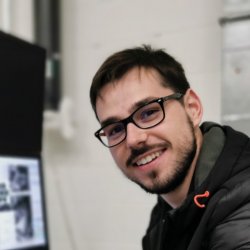 Mateus Masteghin
"My journey to the University of Surrey started when I was still a masters student. I was studying at São Paulo State University in the Chemistry Institute of Araraquara, Brazil, when I had the opportunity to spend 10 weeks conducting experiments in Surrey's Advanced Technology Institute."
Research project
Studying Quantum Devices Using the Focused Ion Beam Microscope
"At the time, I came to Surrey to use two key facilities, the Clean Room and the Focused Ion Beam [FIB] microscope, to further my research into gas sensors. The Clean Room provides an environment free of particles to prepare electrodes in an uncontaminated area, while the FIB microscope can be used to nanofabricate more sophisticated devices.
I completed these tasks within a few months and I went back to Brazil to complete my masters in chemistry. In January 2018, Dr David Cox, who´s one of the world´s leading experts in FIB technology and is widely famous for creating the world´s smallest snowman, emailed me and asked if I wanted to apply for a PhD at Surrey.
Around Easter time, he told me that a University Research Studentship would sponsor my PhD here. So, after doing my undergraduate degree and my masters in chemistry in Brazil, I'm now studying Electrical and Electronic Engineering under the supervision of Dr David Cox and the co-supervision of Dr Roger Webb.
One of the factors that made this transition so smooth was the support of my supervisors. They gave me all the help I needed when it came to visas and accommodation, and they're very present in my research.
I'm now part of the so-called SIMPLE team, which use different techniques to study quantum devices. I've been learning so much with them and all the other postgraduate students.
The Advanced Technology Institute and the Ion Beam Centre are amazing places, which feature a large community of researchers. There's a real international feel and you get the chance to interact with a plethora of people working in different projects.
I've also just had my first research paper published in Applied Physics Letters, which reports on significant new findings in that discipline.
I live on campus. I initially moved into Millennium House and, this year, I moved into the International House, which is right next door to the laboratory where I work. This means I'm pretty much based on campus 24/7 and I like it. It's very different to my former Brazilian university, where student lodgings are not on the same site. With accommodation on the actual campus, the University of Surrey is like a little town.
When I'm not in the laboratory or on campus, I like to spend time in and around Guildford, which is a lovely and very welcoming place. The only downside? The English weather is still quite a shock for me!"
To find out more about our research, please visit the Advanced Technology Institute.