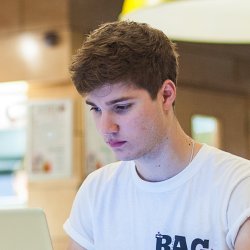 Matt Eastland-Jones
"I have so many good memories from my first year."
Course
Biological Sciences
"I wasn't sure which part of biology to specialise in, so I decided to do a degree that covered a large range of topics.
The spectrum of modules available to Biological Sciences students at Surrey is unparalleled, and when you factor in the Professional Training placement in industry, coming here was an easy choice.
I have so many good memories from my first year. I lived on the Manor Park campus and it was fantastic. Once you settle in, you realise everyone's in the same boat and discover there's an amazing community of students all around you.
In my first semester, I met lots of people through rowing for the University. I've now joined Surrey RAG (Raising and Giving) – we organise lots of events and I can't wait to climb Mount Kilimanjaro to raise money for Hope for Children. Clubs and societies really make your university experience.
Surrey's facilities are amazing, especially the laboratories. When you're in the lab with your white coat on and you have more agar plates in front of you than you can count, you truly feel like a scientist.
I think I've matured a lot since I started my degree. You need to put in a lot of work and effort, but the academic staff provide every kind of support – from help with that one lecture concept that you didn't quite grasp, to dealing with exam stress and everything else that comes with being a first year.
I'm really looking forward to the rest of the course, particularly the chance to go abroad for my Professional Training placement year."
Discover more about our biosciences and medicine programmes, including our BSc Biological Sciences.