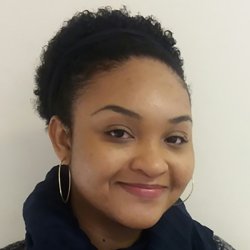 Nikisha Rabess
Nikisha tells us about her island home in the Caribbean and how she hopes to promote its tourism and cultural heritage once she's completed her Masters.
Course
International Tourism Management
"I'm Nikisha and I'm studying for a Masters in International Tourism Marketing. I'm from Dominica in the Caribbean, where tourism is an important source of revenue, so there's lots of opportunity for the island to be marketed as a cultural destination. I know this field of study will help me find ways to protect our cultural resources and revitalise our indigenous heritage.
Before coming to Surrey, I completed a BSc (Hons) in Marketing Management at the University of the West Indies in Barbados. I had to defer my scholarship at Surrey to the following academic year, so during that interim I worked as a customer service rep at the National Bank of Dominica.
During the final year of my degree I met a wonderful lecturer who spoke very highly of the School of Hospitality and Tourism Management. I did a bit of research and discovered the School was number one in the UK for tourism and hospitality, so I decided to apply and I received a conditional offer within five days.
Dominica is known as the 'The Nature Island of the Caribbean', but it's also home to one of the last remaining indigenous populations of the Caribbean. I'm currently researching cultural tourism, exploring Dominica's potential as a cultural destination, with a focus on integrating the Kalinago culture into the tourism experience.
There are many issues facing the tourism industry worldwide. In light of the recent health scare regarding the spread of the Zika virus, tourism in the Caribbean and other areas may suffer immensely. Moreover, the recent terrorist attacks on cities worldwide pose a major threat to global tourism.
Last August, Dominica was hit by Storm Erika, which caused extensive to the entire island and many lives were lost. Tropical storms like this are testament to the impacts of climate change. There are many sustainability issues facing worldwide destinations, and as tourism practitioners, we need to promote sustainable tourism principles and engage in sustainable tourism practices. It's crucial we enforce responsible travel as a means of conserving the natural environment and protecting our destinations for its local people and generations to come.
I think my crowning moment so far during my studies here has been the acceptance of my group's scientific paper to be presented at the International Student Conference in Tourism Research in Austria in May. I've loved all the courses offered on the programme, the field trips and the opportunities I've had to meet with programme leaders and gain insight into the future of tourism. I've built lasting relationships with so many wonderful people from various nationalities and cultural backgrounds.
When I complete my Masters, I hope to work for the local tourist board in Dominica, to help with the development and promotion of our tourism product, and most importantly to help preserve our cultural heritage."
Discover more about our hospitality, events, tourism and transport programmes.