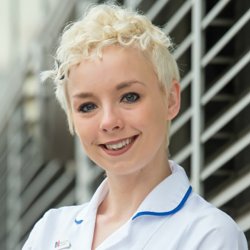 Rachel Parsons
"My course has made me question the actions I make, both inside and outside of University. I feel that I have matured and am becoming a professional member of society."
Course
Nursing Studies (Registered Nurse Children's Nursing)
"Since my first day working in a hospital I realised nursing was my calling. I have been in awe of the colleagues I have worked alongside, learning our teams' weaknesses and strengths, and adapting myself to work well alongside every member.
I had learnt so much working alongside some fantastic colleagues and realised it was the time for me to expand on that knowledge and maybe one day be a role model to another student or Health Care Assistant.
Furthermore my mum is an adult A&E nurse and she is fantastic. I may be biased because she is my mum, but I hope to be as knowledgeable, compassionate and caring as my mum one day.
During my A-Levels I lost my father and did not get the grades required for the Child Nursing programme. I had four years' experience in children's A&E as a Health Care Assistant and was desperate to train to be a children's nurse.
With help of my NHS trust I entered Surreys' foundation degree programme to be an Assistant Practitioner, which taught me the fundamentals of nursing and aided me to eventually join the degree programme.
The professionalism and knowledge of the nurses and student nurses I have worked alongside that studied at Surrey grounded my certainty that I wanted to study my degree at Surrey.
If I can be half as professional and knowledgeable as the nurses I already know that have qualified at Surrey I will be a very happy and accomplished nurse one day.
Surrey could not be more than helpful and professional through my journey so far. The teachers go above and beyond their remit and will go the extra distance to help any of their students. They take great pride in listening to their students and providing us with the materials we need to reach the best grades.
I enjoy many aspects of my course. The theory side of the course is great because it teaches you the skills that apply to practice, and the practical side of the course is a great opportunity to apply that new learning before going on placement.
The practice module teaches you things about yourself you didn't even know. Having had experiences within the practice module in which I thought to myself "I know how to do this" only to have another student or teacher do it differently.
It has made me question my thinking and understand that there are always different approaches to situations. I have learnt to never become complacent and never assume that your approach is always right. Standing back and watching other people has taught me so much.
The Students' Union are great at organising events and there is always something going on around campus.
The facilities on campus are also brilliant, even the food and drink (Lakeside Restaurant make an awesome white hot chocolate!) and the Library is an endless Tardis of information. Across the board all Surrey staff, from the teachers to the shop assistants, are extremely helpful."
Discover more about our health sciences programmes.