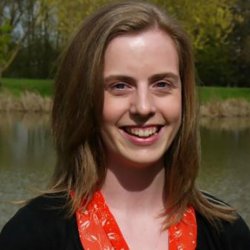 Rebecca Smethurst
"Surrey's campus is one of the nicest I've seen. It has calm open spaces but is only half an hour from London – the best of both worlds!"
Course
Nutrition
Placement company
Community centre, Liverpool
"I decided to study nutrition because I've always wanted a career related to health and where I can help other people. It's also an exciting and evolving subject.
Surrey has one of the best reputations for Nutrition. The campus itself is one of the nicest I've seen, with calm open spaces but only half an hour from London – the best of both worlds!
I've really enjoyed the group work, and being taught the most up-to-date research is fascinating and ensures you understand important current issues.
I had a fantastic time on placement at a community centre in Liverpool, where I concentrated on public health nutrition. The colleagues I worked with were great.  I still keep in regular contact with them, which has been really helpful as I'm now doing similar community sessions for my final year project.  My placement confirmed what I would like to do after university. When I graduate, I would love to go into public health nutrition – I want a job where I can make a difference to people's lives and give them the skills and knowledge they need to make healthier decisions.
Coming to Surrey to study nutrition has been one of the best choices I have made. The course itself is fascinating and great fun, with varied teaching through lectures, practicals and group work.  Meeting like-minded people on the course and in the faculty gives you support, friendship and experiences you'll never forget." 
Learn more about our food, nutrition and dietetics, including our BSc Nutrition.