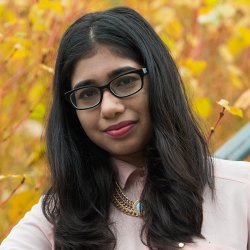 Rosina Rahim
"Undertaking an Erasmus exchange gives you the chance to meet new people, which provides you with an international network that can really help in the future."
Course
International Business Management
"I chose the University of Surrey after looking at the league tables and seeing that the University was ranked quite highly. They also have a good reputation. Another reason was that Surrey stated that it has a lot of contacts with well-known firms, which is very helpful in terms of getting a placement or possibly a job.
In regards to my application, I found that there was lots of help available online on the Surrey website. However, I would recommend coming to an Applicant Day as it gives you the chance to talk to academics which can really help clarify whether the programme you have chosen is right for you.
In addition, it gives an idea of student life which is particularly useful for students that are planning to live on campus.
I genuinely enjoy studying business. I chose to study International Business Management as I have always had an interest in international business affairs. Studying the global economic climates in international businesses has further helped me to understand the large impact they have on our lives. Additionally, in terms of my future career goals the programme fits perfectly as I aim to work for an international firm!
During my studies, I have particularly enjoyed the teamwork aspect. This has given me the opportunity to meet new people from different countries and backgrounds. Fundamentally, it has also given me an insight of what teamwork would be like in real organisations. I also enjoy the relevance of my programme to real life business issues, as this gives a clearer understanding of the topics we are studying.
The academic staff are very helpful. They have office hours in which we can visit them if we have any queries. Some lecturers don't mind if we come in at any time! In terms of the facilities for business students, there are many computer rooms in which we can study in. Furthermore, there are rooms for group work available in the Library and around the campus. This is particularly useful to discuss ideas in a group when there is a group assignment to do.
In my first year of university, I lived in campus accommodation. I highly recommend it! My flatmates were amazing, we became good friends and have kept in contact ever since. It was very easy to get to classes, especially for the 9am lectures! It also made it easier to attend clubs and societies.
I was part of the Islamic society, this has helped me meet other Muslims at the University. In addition, I was able to contribute in raising money for a social cause. I also joined the First Aid class, although it is not related to my course, I found it extremely beneficial to learn first aid just in case I need to use it at any time in the future.
The social life is great, the University gives you an opportunity to meet people from a range of backgrounds. It is a really nice place to relax or clear your mind; I particularly enjoy the breath-taking view of the lake. In addition, for people that are commuting, the train station and bus station are close to the University which is extremely convenient.
I have been on a six-month Erasmus exchange to Linkӧping University, in Sweden. I was really interested in travelling abroad, especially as my programme is based on an international perspective, I thought the experience could really help to provide insightful experiences in relation to my course. In addition, going abroad would be good to put on my CV as it would show employers that I am able to adapt to different environments.
I got a lot of help from staff who specialised in study abroad applications. If I had any difficulty in the application I would just email or go straight to their office.
My experience during my exchange was amazing. My flatmates were supportive and fun! I was able to experience Swedish culture such as Fika. In particular I enjoyed exploring the other cities in Sweden, they were really beautiful! Undertaking an Erasmus exchange gives you the chance to meet new people, which provides you with an international network that can really help in the future. I would 100% recommend going abroad, it really helps you to become more independent and grow as a person. After studying abroad my self-confidence has increased tremendously, which has also affected my academic work as I am now able to do presentations without being anxious. Plus, it looks great on your CV!
My greatest achievement has definitely been studying abroad. The experiences and skills that I obtained from Erasmus will stay with me for life. The experience is absolutely priceless.
I have certainly developed as a person. I am able to communicate with people more effectively. This has also enabled me to contribute to group discussions and participations much more, which has had a positive effect both socially and academically. Through living on campus for a year and going abroad I have become much more independent.
I would just like to thank the University of Surrey for providing me with an experience that I will remember for a lifetime!"
Discover more about our business and management programmes, including our BSc International Business Management.