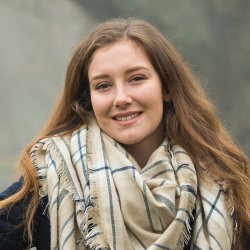 Ruby Jamieson
"I would 100 per cent advocate to anyone that wants to study abroad to do it. I learnt so much about the world, and myself, during my year away and have made friends for life all across the globe."
"Surrey's position in the league tables was an attractive factor when I chose where to study, however the Professional Training placement very much enticed me to come to Surrey. I also felt, because London is so easily accessible from Surrey, that this would be helpful when it came to training days/networking events throughout my studies.
I did come to an Applicant Day and I would very much suggest attending a day like this as you get a good idea of what your course will be like, and if you're very eager you could prepare yourself a little before you arrive.
You also get to meet some of the academic staff which helps as there is a familiar face when you arrive and know nobody.
I have always, for as long as I can remember, wanted to be a lawyer and having a law degree is essential for this. I love the complexity that the law has to offer, and the application in your daily life. 
I like being challenged, and studying law definitely does this. I enjoy how current my studies are, meaning that you can watch the news and understand what is going on, and the legal consequences of this. 
The academic staff are very supportive in our studies. Most academics will always have their office door open, so if you have a quick question you can always pop in and they will try to help. In my final year I have realised the most how helpful the academic staff are and how having a good relationship with them will really help you excel in your studies. 
I lived on Stag Hill in the University Court halls of residence. It is a great way to meet everyone in your first few weeks. It's also very helpful that you're no more than five-minutes away from all of your classes.
I have been a member of the Law Society since my first year at university but in my final year I am a committee member and it has made me realise all the opportunities that the Law Society does offer to academically, professionally and socially support your life at Surrey.
Surrey's campus is undoubtedly beautiful. Guildford town itself is also very pretty and quaint, I find it to be just the right size; there are plenty of shops and restaurants, but it is not too busy and large that you feel overwhelmed. Also you can easily get everywhere you need to by foot or public transport.
I went on Erasmus exchange in my third year at university for an entire year, and it was undoubtedly the best year of my life. I went to Université Catholique de Lille, in Lille, France. I decided to go on Erasmus in France as I could partially speak French but wanted to become fluent - which according to my French friends I achieved during my stay. 
The University was amazing in organising my Erasmus experience, I decided to go on Eramus very late in the year (after the deadline) yet the University did everything they could do to get me a place at the University I wanted to go to and helped me all the way through the application and during my time away.
I would 100 per cent advocate to anyone that wants to study abroad to do it. I learnt so much about the world, and myself, during my year away and have made friends for life all across the globe.
My greatest achievement is absolutely reaching fluency in French. I remember my first week in France being overwhelming with classrooms full of French people, but by the end of my stay I took exams in French and presented in front of large audiences in my second language.
I absolutely have grown as a person since I started at Surrey, I have learnt my strengths and weaknesses and how to use them to my advantage. My confidence has grown massively by throwing myself into all the opportunities that Surrey, and especially my faculty, has to offer.
In order to become a lawyer I have to study for a further year at a law school to take my LPC, and then I will commence my two years training which I have secured with a law firm."
Discover more about our law programmes, including our LLB Law.