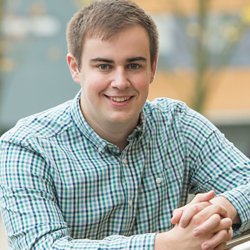 Samuel Green
"My biggest achievement on placement was designing a model which was approved by James Dyson, the company's founder."
Course
Mechanical Engineering
"When deciding which university to choose, the opportunity to do Professional Training was the extra element that swayed me towards Surrey, along with its great reputation for engineering and the University's investment in this department.
Whereas most MEng students go on placement following their third year, I went after my second year, which has meant that I've been able to carry the experience I gained forward to two more years at Surrey.
I applied to high-tech companies and secured a placement with Dyson, which was a fantastic opportunity. This was the first year the company had offered placements in its RDD (research, design and development) department.
Before being taken on by Dyson I was invited to attend their assessment day where we were given a number of tasks to do which were interesting, challenging and enjoyable. I particularly relished the challenge of re-designing an appliance and presenting my proposed product – exactly the type of thing I love doing!
Having joined Dyson's RDD department, I found I had instant access to the expertise of senior engineers and design managers and at no point was I treated like an intern. Right from the word go, I was given parts to design, which were small at first progressing to larger projects as the year went on.
My biggest achievement on placement was designing a model which was approved by James Dyson, the company's founder. I also developed models which went on to save the company money. I loved the company's creative 'wrong thinking' attitude. Dyson's ethos is 'never be put off by failure' – people are encouraged to learn from failure to make better products. Dyson invests a lot in the personal development of its interns and offers personal development sessions which are focused on developing skills and building confidence.
Some of the most valuable things I gained were developing new CAD skills, acquiring technical skills, and learning how to convey my ideas effectively in meetings. I feel confident that I will be able to incorporate and carry forward the abilities and skills I have gained during my placement towards the rest of my degree and future career.
Studying Mechanical Engineering at Surrey has been a good decision. I like the fact that you get the chance to improve your workshop skills from early on, while learning the theoretical side. I've enjoyed the opportunity to get involved in Formula Student (the world's largest student motorsport competition) – in fact I was Vice-President of the Formula Student Society during my first two years and it will be the focus for my project this year.
Surrey has also enabled me to broaden my horizons in other ways. Having always played rugby before coming here I decided to try something completely different and took up lacrosse. The sports facilities here are superb and finding myself training alongside elite sports teams such as the 2015 Rugby World Cup teams has been a highlight."
Discover more about our mechanical engineering programmes, including our MEng Mechanical Engineering.