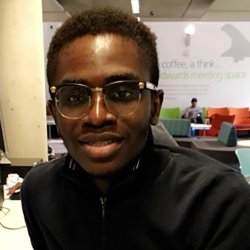 Simon Opara
"My time at Surrey has enabled me to take on challenges more readily and improve my self-learning abilities."
"I am passionate about information security mainly because of how diverse it is, as it applies to every sector/industry. Irrespective of the nature of the business, information security is a neccessity as there is always a need to prevent unauthorised access, guarantee availability, and maintain confidentiality and privacy.
The urge to be part of the solution to the increasing problems of hacking, data theft, identity theft and other cyber-related threats in our society today, influenced my choice to study for a degree in information security.
Surrey was one of two schools I applied to for my course. After further research and recommendations from a few friends and family who all said Surrey was the better option I decided to come to Surrey, and I was not dissapointed.
I don't think I could have had a better experience elsewhere than I did at Surrey. It has been a worthwhile and very rewarding experience.
Being one of the very few institutions in the country that are GCHQ certified to run the Information Security programme, Surrey is one of the best choices for anyone looking to enrol for an Information Security Masters. The lecturers are well-grounded in their respective fields and have industry affiliations and recognition.
I enjoy every part of my programme because it always gives me a sense of responsibility. I enjoy the practical aspects of my programmes, the especially on the Multimedia and Digital Forensics module I took, within which I had to use Digital Forensic tools to investigate a mock crime and produce exhibits.
The lecturers in Computer Science Department are very helpful and are always ready to offer assistance whenever you approach them. They are passionate about what they do and take time to make things clear to the students.
Life at the University of Surrey is great because there is a good mix of everything. As well as the good quality of teaching delivered, there are also excellent learning facilities such as the Library and Learning Centre and labs. There are also amazing facilities available for sports at Surrey Sports Park and the Front Room on campus is equipped with board games and video games to help students relax from intense studying and academic work. There are also lots of societies to join to keep students engaged with something they love doing."
Discover more about our computer science programmes, including our MSc Information Security.