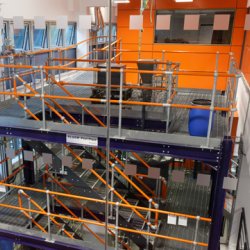 Suzie Ferguson
"A big driver was its impressive employment statistics, and it also had a good staff to student radio. I thought, this is a tough subject I'm taking, I want to be able to ask questions when I need to!"
Currently Carbon Capture Technical Lead at multinational engineering company Amec Foster Wheeler, Suzie Ferguson's interest in engineering began with her desire to do something that would help the environment.
"While doing my A-levels I went to a careers fair and someone pointed out that I could either study environmental science and be someone who tests pollution levels, or I could study chemical or environmental engineering, and become part of the solution to the problem," she recalls. "That sold me immediately."
Suzie chose the University of Surrey for her MEng degree for a number of reasons. "A big driver was its impressive employment statistics, and it also had a good staff to student radio. I thought, this is a tough subject I'm taking, I want to be able to ask questions when I need to!"
The chance to do a year in industry was also a draw. During her Professional Training placement year Suzie spent 10 months at a UK BP refinery and three months at Tate & Lyle in Colombia, South America. She also undertook a summer placement with pharmaceutical company AstraZeneca in Macclesfield. "These experiences really helped me to see what a career in an operating company might look like, and whether I wanted to pursue something 'ultra-clean' like pharmaceuticals or 'ultra-dirty' like an oil refinery."
Suzie graduated from Surrey with a first class honours degree and was recognised with two top awards – the Cadzow Smith Award for best engineering graduate from southern universities, and the Salters' Prize for best UK chemical engineering graduate – beating intense competition from other universities.
Joining Foster Wheeler (now Amec Foster Wheeler) on the company's graduate training scheme, Suzie realised that the Professional Training placement she had undertaken at Surrey had an additional advantage. An interesting industrial year counted towards chartership and meant that she could complete the scheme in just three years instead of four.
The training scheme gave Suzie the opportunity to try her hand at a range of roles in different departments – from designing tanks for a refinery in Saudi Arabia "with pipes you could drive a small car down" to hydrogen plants to safety dispersion modelling.
"I decided that I liked the front end engineering side – conceptual studies, feasibility studies, technical and economical assessments – more than I liked the detailed design side. I preferred the bigger picture, so I went into the consulting arm of the company."
In her 12 years with Amec Foster Wheeler, Suzie has worked both in the UK and around the world – spending time in Malaysia, Milan and Dubai. In her more recent roles she has focused on conducting technical and economic evaluations for carbon capture projects. A fairly new technology, carbon capture involves safely containing CO2, and has the potential to change the whole energy economy and have a significant impact on reducing global warming.
As Carbon Capture Lead in the company's Business Solutions Group, Suzie is responsible for benchmarking existing state-of-the-art technology and comparing it with innovative technologies coming out of laboratories, pilot plants and start-up companies.
"We do the calculations that enable us to identify whether a new carbon capture technology looks promising and could be scaled up. This is work that could really shape the future. It's very exciting, if, at times, frustrating."
"What we really need is for more carbon capture plants to be built. The UK developed one of the first full scale carbon capture projects and was leading the way in this field in around 2005 but has now dropped away with no clear energy policy taking us forward."
Having forged a very successful career in chemical engineering herself, Suzie is keen to encourage others to do the same through her activities as a STEM ambassador and graduate mentor. As a mother of two young children, she also demonstrates that is possible to balance a demanding career with family life.
"What has helped me in my career is having good mentors and making use of them," she says. "My other piece of advice would be to look around for what you think might be more interesting if you are bored with what you are doing. It's so important to be excited by what you do."
Discover our programmes in Chemical and Process Engineering.