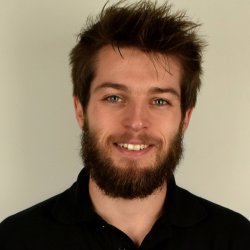 Tom Bates
"I would definitely recommend a Professional Training placement. It has been invaluable to my development as an engineer, and it has provided me with a job offer for when I finish my degree."
Course
Electronic Engineering
"Through some short work experience placements I had undertaken whilst at secondary school and college, I had gained a number of contacts in industry. Many of these had been graduates from the University of Surrey. Additionally, the Department of Electrical and Electronic Engineering  regularly places in the top 10 of the UK league tables.
"The opportunity to undertake a Professional Training placement year was important to me, and not only was it offered for my course but it was encouraged."
The Open Day I attended opened my eyes to the calibre of the University and of the Department. I was introduced to the four research centres within the Department, and shown the type of projects students are involved in throughout their degree. In addition to the facilities and programme of study, the interest and enthusiasm shown by both staff and students on the Open Day cemented my decision to choose the University of Surrey. My first impression of Surrey was that the whole campus feels like a tight-knit community. There was a lot of support available from both the University and the Students' Union, and the range of facilities around campus were fantastic.
I particularly enjoy the practical aspect of my course. The opportunities to develop projects as part of the course criteria develops practical skills in design, manufacture, and testing. The tight integration with the research centres keeps the course material cutting-edge, and enables students to easily get involved with further research opportunities. 
The staff have always been enthusiastic and interesting. They all have a clear commitment to developing students abilities, and really care about helping us do our best.
The facilities are state-of-the-art, with large lab spaces dedicated to students. The new Innovation for Health building adds to this lab space, and also provides new group working areas for group projects. The equipment is always suitable for the task at hand, and the Department are continually investing in the future of rapid prototyping for students, with PCB fabrication capabilities, a number of 3D printers, and a laser cutter, all available for student projects.
The skills I developed during this placement have been crucial to my development as an engineer, and have positively impacted my studies since. 
I am involved with EARS – the Electronics and Amateur Radio Society. They are the go-to society for electronics projects at the University. They put on events such as ScraphEEp – a one-day contest to build a robot using materials from a scrap pile to complete a given task. The also put on courses for Arduino and Python. Assisting in the Arduino course improved my knowledge of using Arduino, and enabled me to share my knowledge with others. I am also involved with Team SURTES – the Formula Student team at the University. Every year, a single seat racing car is built and taken down to Silverstone to compete against other cars from other universities across the world. Currently Team SURTES is running an electric car, and there are engineers from a wide range of disciplines on the project.  
In summer, I enjoy spending time down by the lake. Sitting on the grass in the sun with a group of people is a great way to enjoy lunch or an afternoon break, and there is always plenty of space even when everyone else seems to have the same idea.
The Professional Training placement was incredibly enjoyable as it provided real industry experience. My role was "Hardware Industrial Placement" at BAE Systems, Rochester, Kent.
My work during my placement involved a wide range of activities, from design and analysis through to prototyping and commissioning. The area I was working in required a diverse skillset and provided me with plenty of opportunities. Specifically, I was involved with circuit design and simulation, power analysis, and hardware commissioning.
The highlight came right at the end of my placement, as commissioning was completed on a project I was working on.
During my placement, I developed my programming and simulation skills, and I had the opportunity to work in a small group of graduates on an outreach project which really developed my team working skills. Through training courses and the experiences I had working on the projects I gained an understanding for how the financials of the company worked, and I learnt about the product development lifecycle.
I was supported by both my workplace and the University during my placement year. The University have a great scheme in place to support placement students, with regular visits from a placement tutor and good contact to ensure students are kept up to date with the University throughout the year. My workplace also has a scheme to ensure that I was fully supported with training where appropriate, and I had a number of people I could go to should I need any advice.
I would definitely recommend a Professional Training placement.
It has been invaluable to my development as an engineer, and it has provided me with a job offer for when I finish my degree. Having this level of industrial experience looks great on a CV, and can give you the edge in an interview. It was also an experience unlike any other from my time at University. It's a brief glimpse into the future beyond a degree course, and there is the added bonus that many Professional Training placements are paid. Now that I can definitely recommend!
It's tough to choose my best moment at Surrey so far. It's probably between being offered a graduate job based on my Professional Training placement, or developing my third year individual project into a conference paper accepted by an IEEE conference. However I think as part of the team that's designed and built it, seeing the Formula Student car take its first drive in 2018 might outstrip both of those!
I've definitely changed a lot since I started at Surrey. Aside from knowing a lot more about engineering, I have a much greater visibility into the industry due to my Professional Training placement. I have also improved my team working capabilities as a result of the number of group project I've been on. I would also say my confidence and awareness of other people has drastically improved over the past five years as a result of all of my experiences at the University."
Discover more about our electrical and electronic engineering courses, including our BEng and MEng Electronic Engineering degrees.