Information and process systems engineering
Digital technologies and computation are changing the way that industries and governments make decisions and understand large, complex systems. Developing combinations of first principles and data-driven multi-scale models, we use cutting-edge approaches to understand and manage complex processes and systems to address grand challenges in energy, water, environment, health and food.
Research areas
We deliver world-class multi-disciplinary research through combining state-of-the-art and novel computational and mathematical techniques and applying these to a wide range of industrial and theoretical problems.
We have expertise in developing multi-scale models, from the atomic scale and unit modelling to plant- and industry-wide systems, to solve problems to understand, design, optimise and control new and existing systems. We use a variety of computational techniques, from more traditional computational fluid dynamics and deterministic optimisation models to modern statistical data-driven approaches such as artificial intelligence and machine learning, knowledge modelling and lattice-Boltzmann modelling, to develop algorithms and techniques to solve important industrial problems and gain deeper understanding of complex systems.
We have developed new algorithms that combine fundamental process knowledge, mechanistic process models and data for more reliable and robust detection of process anomalies, as well as diagnosis of the root cause of such faults. As well as the theoretical work, we are in the process of applying these methods to predictive maintenance of critical equipment in the process industry and healthcare services.
In addition, we develop advanced methods for model analysis under uncertainty with applications in the design of experiments, model reduction and model predictive control.
Manufacturing and industrial systems are currently undergoing a radical change, termed Industry 4.0, where the chemical industry is implementing ever more advanced sensing techniques, enabled by the 'internet of things'. These new cyber-physical systems are revolutionising process industries and enable industry to respond to market requirements in real-time and provide visibility across production and value chains.
We develop custom algorithms and approaches to utilise this data through combining data-driven and model-driven approaches to offer real-time solutions to industrial partners.
We combine years of industrial and academic experience to create higher efficiency systems from retrofitting of existing processes, through to creating more tightly integrated or intensified processes.
By combining well-established heat and mass integration formulations using classical process system engineering approaches of mathematical optimisation, together with rigorous process models, incorporated into the flowsheets through surrogate modelling, we apply whole systems approaches to create next-generation processes for more sustainable and profitable industries.
We use state-of-the-art modelling and techno-economic analysis to model, understand and optimise large-scale systems using mathematical optimisation tools. Combining these techniques with industry-specific data, economic models and supply chains, we simulate and propose new, radical solutions to large-scale problems in energy, water, and health.
In particular, our group is a world-leader in bio-energy modelling, combining new experimental insights, with regional energy and supply chain models to determine future energy landscapes that are more sustainable and efficient. Our work on energy planning modelling optimisation allows policymakers and industrial partners to model and explore potential technologies and their technoeconomic and social impacts before implementation.
We have developed new models for a wide range of applications, from traditional chemical engineering applications such as chemical reactors, separation units, and flowsheets, to complex biological systems.
We work with experimentalists and industrial partners to develop new models to optimise, and scale-up new processes and explain and predict results using first-principles theory and data-driven techniques. In particular, our multiscale model of skin penetration is at the forefront of this area in the world, with applications in topical and transdermal drug delivery, skin exposure to personal care, cosmetic and occupational products, as well as supporting design of skin measurement instrument.
Combining years of experience in circular economy and optimisation modelling, our team uses mathematics to represent large-scale systems holistically to understand optimal integrated design and decision-making.
Using these developed frameworks, the team is able to suggest pathways to sustainable, efficient and profitable new integrated industrial systems and infrastructure for applications in energy, food, water, and consumer products.
Tools and applications
Our group is working on the interplay between novel systems engineering methodologies and important applications, as illustrated in this diagram.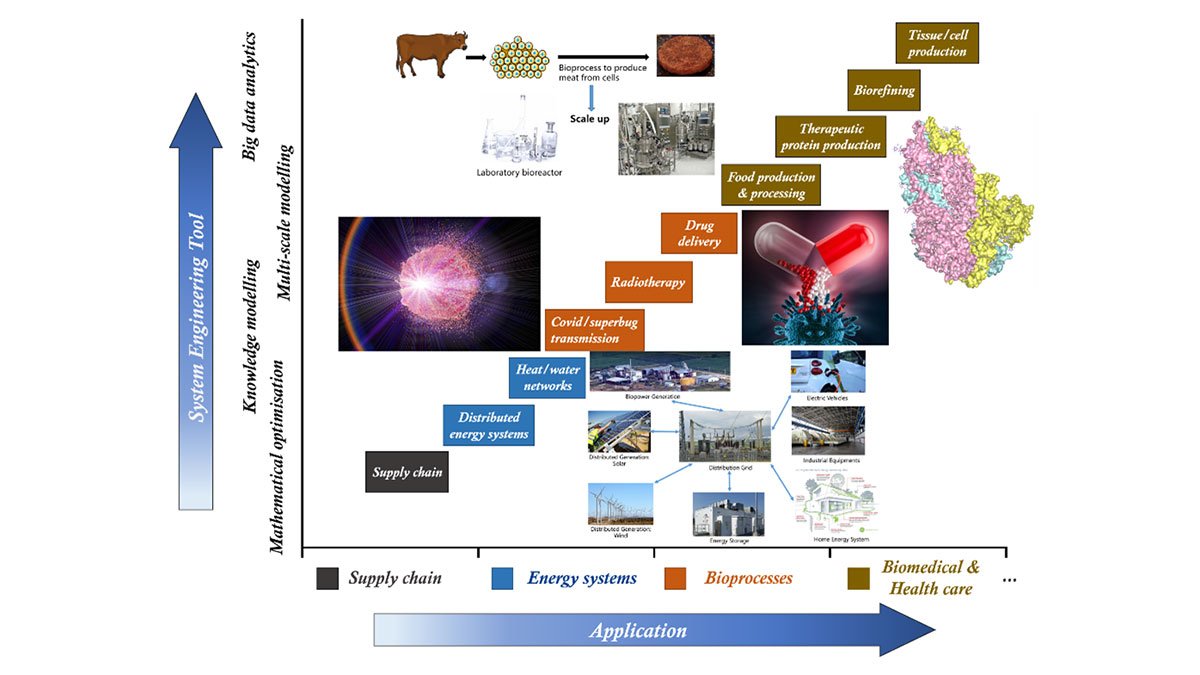 Available equipment and software
High-performance computing resources
GAMS
COMSOL multiphysics
COSMOTherm
gPROMS process builder.
Collaborations
Combining over 15 years of research expertise and £5million of research funding, we work with industrial and academic partners from around the world to deliver cutting edge solutions to important problems found across diverse industries such as chemicals, pharmaceuticals, energy, consumer goods, agriculture, and biomedical industries.
Industry partners
BASF
Chelsea Technologies
Cosmetics Europe
CropLife Europe
Eli Lilly and Company
Honeywell
JFE Steel Corporation (Japan)
Laizhou Mingbo Aquatic Co. Ltd. (China)
National Metrology Laboratory
National Physical Laboratory
Perceptive Engineering
Process Systems Enterprise
Royal Surrey County Hospital
Syngenta
Unilever
US Food & Drug Administration.
Small and medium-sized enterprises
Aria Sustainability Ltd
Bio-Sep Ltd
Biox Ltd
DIREK Ltd
Hatfields London Ltd
Inspro Ltd
Octeract
Phytoceutical Ltd
Pplus Skin Care Ltd.
Ongoing projects
Start date: February 2021
Completed projects
January 2019 - December 2020, European Crop Protection Association, "Dermal absorption in vitro – assessment of study variability and harmonization", €78,000
November 2018 - May 2019, EPSRC, "Novel formulations for effective and stable skin delivery of anti-aging nutrients", Impact Acceleration Account scheme (internal), £33,000
October 2016 - June 2021, BBSRC, "Multi-scale modelling of dermal absorption, disposition, systemic circulation and liver metabolism of xenobiotics", Industrial CASE scheme, £97,000 (BBSRC) and £38,000 (Unilever)
July 2016 - March 2017, EPSRC, "Developing a computational tool for assessing skin exposure to agricultural pesticides", Global Challenges Research Fund (a subproject of the institutional award, internal), £45,000
March 2015 - March 2016, Royal Academy of Engineering, "In-silico modelling of transdermal permeation", Industrial Fellowship, £29,000
March 2015 - February 2017, Royal Society, "Modelling high-value manufacturing processes with small data", International Exchanges scheme, £11,000
January 2015 - December 2017, National Physical Laboratory, "Quantifying the impact of dosimetry quality assurance on clinical outcomes of radiotherapy", £50,000
October 2013 - September 2017, BBSRC, "Modelling sub cellular molecular transfer and metabolic reaction in skin", Industrial CASE scheme, £94,000 (BBSRC) and £24,000 (Unilever).
Meet the team
Along with our research interests and industrial partnerships, we boast a vibrant community of PhD students and postdoctoral research fellows from around the world. View specific research interests, expertise, publications, and contact details via our profiles.
Postgraduate research students