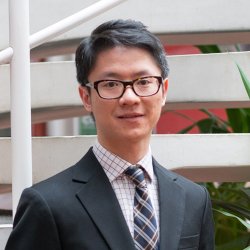 Dr Jason Chen
---
Senior Lecturer in Tourism and Events Management
BA, MSc, PhD, Certified Hospitality Educator
Biography
Biography
Jason is a Senior Lecturer in Tourism and Events Management. Before joining the University of Surrey in 2011, Jason received his BA in Economics in 2004 and MSc in Economics and Statistics in 2007. He then worked as a research assistant at The Hong Kong Polytechnic University, where he obtained his PhD in Tourism Management. Jason has worked with various organisations on research and consultancy projects about tourism demand modelling and forecasting, tourism impact evaluation, and tourist satisfaction assessment.
Research interests
Tourism economics; Tourist behaviour; Demand modelling and forecasting; Quantitative research methods
Research collaborations
Project Name: Economic Impact and Travel Patterns of Accessible Tourism in Europe
Researchers: Dr Victoria Eichhorn, Dr Gang Li, Prof Graham Miller, Dr Jason Chen
Project summary: The main aim of the project is to improve Europe's tourism sector competitiveness and the attractiveness of its destinations by examining the current and future demand for accessible tourism. Travel patterns and behaviour of people with access needs are investigated, essential to establish the current and future economic contribution of accessible tourism. This will provide evidence why investments in accessible tourism are necessary to deliver economic and social benefits to both the industry as well as all individuals.
Project Partners: GfK Significant (Belgium); Neumann Consult (Germany) and ProASolutions (Spain)
Source of Funding: European Commission, DG Enterprise and Industry (Total value: €250K)
Teaching
Business Environment; Tourist Behaviour; Economics for Leisure and Tourism; International Tourism Management; PhD Research Development Programme
Departmental duties
Programme Leader MSc Strategic Tourism Management and Marketing
Affiliations
Member of the International Association for Tourism Economics