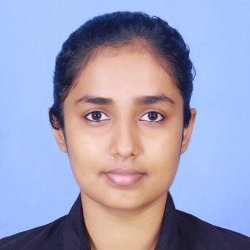 Maheshani Prabodhi Alwis Nanayakkara
---
Postgraduate research student
My research project
Organic-inorganic hybrid X-ray detectors for radiation sensing
Prabodhi is currently a PhD student at Advanced Technology Insitute, University of Surrey, where she is supervised by Prof. Ravi Silva and Dr Imalka Jaywardena. Prior to her PhD, she graduated with a BSc Eng Hons in Materials Science and Engineering at the University of Moratuwa, Sri Lanka in 2017 and was awarded the Gold Medal for best performance in the field of Materials Science and Engineering.
Prabodhi's research focuses on fabricating X-ray detectors by using organic-inorganic hybrid semiconductors such as bismuth oxide sensitized organic semiconductors. Through careful design, it is possible to achieve exceptional characteristics such as broadband sensitivities, ultra-low dark currents, low voltage functionality, and conformable operation from such hybrid detectors. She is working with several collaborators in order to optimise this detector concept to be implemented in potential applications such as dosimetry in radiotherapy. 
Supervisors
My qualifications
2017
BSc Eng Hons in Materials Science and Engineering
University Of Moratuwa
Affiliations and memberships
IEEE Nuclear and Plasma Sciences Society
Student
In the media
Research
Research interests
Prabodhi's research interests include developing new X-ray detector concepts based on hybrid semiconductors for medical and industrial applications.
Research collaborations
Department of Medical Physics and Biomedical Engineering, UCL
Department of Physics and Astronomy, University of Sheffield

Physical Science and Engineering Division, KAUST

Department of Physics and Astronomy, University of Bologna

National Physical Laboratory

FLUXiM AG
My teaching
Prabodhi contributes to teaching activities within the Physics Department by assisting with 1st Year UG laboratory demonstration for PHY1035/6 and PHY2062 modules.
My publications
Publications
M. P. A. Nanayakkara, L. Matjacic, S. Wood, F. Richheimer, F. A. Castro, S. Jenatsch, S. Züfle, R. Kilbride, A. J. Parnell, M. G. Masteghin, H. M. Thirimanne, A. Nisbet, K. D. G. I. Jayawardena, S. R. P. Silva
(2020).
Ultra‐Low Dark Current Organic-Inorganic Hybrid X‐Ray Detectors
View abstract
View full publication
Organic‐inorganic hybrid semiconductors are an emerging class of materials for direct conversion X‐ray detection due to attractive characteristics such as high sensitivity and the potential to form conformal detectors. However, existing hybrid semiconductor X‐ray detectors display dark currents that are 1000–10 000× higher than industrially relevant values of 1–10 pA mm−2. Herein, ultra‐low dark currents of <10 pA mm−2, under electric fields as high as ≈4 V µm−1, for hybrid X‐ray detectors consisting of bismuth oxide nanoparticles (for enhanced X‐ray attenuation) incorporated into an organic bulk heterojunction consisting of p‐type Poly(3‐hexylthiophene‐2,5‐diyl) (P3HT) and n‐type [6,6]‐Phenyl C71 butyric acid methyl ester (PC70BM) are reported. Such ultra‐low dark currents are realized through the enrichment of the hole selective p‐type organic semiconductor near the anode contact. The resulting detectors demonstrate broadband X‐ray response including an exceptionally high sensitivity of ≈1.5 mC Gy−1 cm−2 and <6% variation in angular dependence response under 6 MV hard X‐rays. The above characteristics in combination with excellent dose linearity, dose rate linearity, and reproducibility over a broad energy range enable these detectors to be developed for medical and industrial applications.