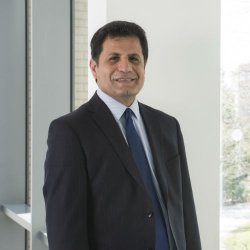 Professor Rahim Tafazolli FREng
---
Head of the Institute for Communication Systems (ICS)
Regius, FREng, FIET, WWRF Fellow
Personal assistant: Samantha Hayward
About
Biography
Rahim Tafazolli is Regius Professor of Electronic Engineering, Professor of Mobile and Satellite Communications, Founder and Director of 5GIC, 6GIC  and ICS (Institute for Communication System) at the University of Surrey. He has over 30 years of experience in digital communications research and teaching. He has authored and co-authored more than 1000 research publications and is regularly invited to deliver keynote talks and distinguished lectures to international conferences and workshops.
Affiliations and memberships
Innovate UK (since September 2014)
On the ICT Industry Advisory Board.
UK Smart Cities (since November 2013)
On the forum.
Business, Innovation and Skills (BIS) UK (since March 2012)
Advisory working group to the National Measurement Office for NPL Programmes.
Wireless World Research Forum (WWRF)
In 2011, I was appointed as Fellow in recognition of his personal contributions to the wireless world.
IET Communications
On the policy panel
Research

Indicators of esteem

Professor Tafazolli was awarded the 28th KIA Laureate Award in 2015 for his contribution to communications technology.

The laureates of the KIA, Khwarizmi International Award (KIA) of Iran, are selected from the internationally distinguished scientists and researchers whose contributions to the advancement of science and technology are confirmed by the Iranian Research Organisation of Science and Technology (IROST) scientific committee.