Computer and Internet Engineering BEng (Hons) or MEng – 2023 entry
Key information
Start date: September 2023
Apply for your chosen course online through UCAS, with the following course and institution codes.
| Course | UCAS code | Institution code |
| --- | --- | --- |
| BEng (Hons) | G402 | S85 |
| BEng (Hons) with professional training | G403 | S85 |
| MEng | G404 | S85 |
| MEng with professional training | G405 | S85 |
| BEng (Hons) with foundation year | H642 | S85 |
| BEng (Hons) with foundation year and professional training | H643 | S85 |
Why choose this course
Surrey is one of the UK's leading universities for electrical and electronic engineering, with our courses ranked 1st in the UK for information technology systems in the Complete University Guide 2023, and 3rd in the UK for information technology in the National Student Survey 2022.
Our award-winning Professional Training placements prepare students for roles in various technology-based sectors.
Created with input from industry, our BEng and MEng in Computer and Internet Engineering are developing the next generation of engineers for the internet age.
Throughout your studies, you'll complete integrated training in communications (both hardware and software), media and content delivery, and security and machine learning.
What you will study
Our BEng and MEng Computer and Internet Engineering courses are boosted by our leading research centres. These are:
Our aim is to develop engineers with a solid grounding in electronics and the specialist skills needed to work at the forefront of mobile and internet technology. After a year covering important concepts in programming and electronics, you'll study advanced modules in topics such as mobile communications, digital signal processing and artificial intelligence.
You can apply to study for a BEng or an MEng. The MEng builds on the BEng with a masters year and is a direct route to a masters qualification. Depending on your progress, you may have the option to switch to a BEng or MEng during your studies.
Find out more about the benefits of an integrated masters degree.
Facilities
Extensive teaching laboratories, plus networked computer suites with 24-hour access, are available to all undergraduates in the Department.
You'll also have access to state-of-the-art research facilities in Year 3 if you're completing a project linked to one of our research centres:
We actively encourage you to undertake project work outside of timetabled hours – as long as you follow safe working practices.
Professional recognition
BEng (Hons) - Institution of Engineering and Technology (IET)
Accredited by the Institution of Engineering and Technology (IET) on behalf of the Engineering Council for the purposes of fully meeting the academic requirement for registration as an Incorporated Engineer and partially meeting the academic requirement for registration as a Chartered Engineer.
MEng - Institution of Engineering and Technology (IET)
Accredited by the Institution of Engineering and Technology on behalf of the Engineering Council for the purposes of fully meeting the academic requirement for registration as a Chartered Engineer.
Careers and graduate prospects
Over the last decade, our employment figures have been among the best in the UK: 96 per cent of our electrical and electronic engineering undergraduate students go on to employment or further study (Graduate Outcomes survey 2022, HESA).
Our graduates successfully secure jobs in the computer and internet engineering sector. As our graduates are highly numerate, literate, business-minded and commercially aware, they're also very attractive recruits for companies in other industries. These include management, banking, accountancy and software development.
Accreditations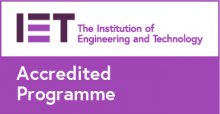 Accreditation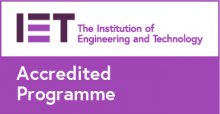 Academic year structure
The academic year is divided into two semesters of 15 weeks each. Each semester consists of a period of teaching, revision/directed learning and assessment.
Modules
Modules listed are indicative, reflecting the information available at the time of publication. Please note that modules may be subject to teaching availability, student demand and/or class size caps.
The University operates a credit framework for all taught programmes based on a 15-credit tariff. Modules usually can be either 15, 30, 45 or 60, 75 and 120 credits, and additionally for some masters dissertations, 90 credits.
The structure of our programmes follow clear educational aims that are tailored to each programme. These are all outlined in the programme specifications which include further details such as the learning outcomes.
Please note: The full module listing for the optional Professional Training placement part of your course can be viewed on the relevant programme specification.
Timetables
Course timetables are normally available one month before the start of the semester. Please note that while we make every effort to ensure that timetables are as student-friendly as possible, scheduled teaching can take place on any day of the week (Monday – Friday). Wednesday afternoons are normally reserved for sports and cultural activities. View our Code of practice for the scheduling of teaching and assessment (PDF).
Teaching
All our courses are organised on a modular basis, with teaching provided through formal lectures, seminars, tutorials and laboratory classes.
For many topics, you'll also be able to take advantage of our online electronic teaching resources, which supplement and extend the material being presented.
The material aims to provide a core knowledge of the various subjects, but you'll also be expected to carry out personal research and learning guided by tutorials and other material.
The balance between lectures and less formal tutorials and laboratory classes varies between levels and semesters.
There may be occasions when the delivery of your teaching is supported by graduate teaching assistants. The University has a set of procedures that govern the use of postgraduate research students in this way.
Assessment
Your progress will be assessed using a variety of methods suited to the module content and activity type. These include:
Coursework
Essays
Examinations
Practical sessions
Presentations
Reports.
Contact hours
Contact hours can vary across our modules. Full details of the contact hours for each module are available from the University of Surrey's module catalogue. See the modules section for more information.
Entry requirements
Do I meet the requirements for this course?
We require you to submit a full application so that we can formally assess whether you meet the criteria published. Unfortunately, we are unable to provide an outcome based on an enquiry (via email, webform enquiry, phone or live chat).
International entry requirements by country
Other international qualifications
If you are an international student and you don't meet the entry requirements to this degree, we offer the International Foundation Year at the Surrey International Study Centre. Upon successful completion, you can progress to this degree course.
English language requirements
IELTS Academic: 6.0 overall with 5.5 in each element.
Selection process
We normally make offers in terms of grades.
If you are a suitable candidate you will be invited to an offer holder event. During your visit to the University you can find out more about the course and meet staff and students.
Foundation
If you don't meet our entry requirements, you might still be able to apply for this course with a foundation year. A course with a foundation year includes an extra year of study to prepare you for a full degree course. Find out more about our degrees with foundation year.
Recognition of prior learning
We recognise that many students enter their higher education course with valuable knowledge and skills developed through a range of professional, vocational and community contexts. 
If this applies to you, the recognition of prior learning (RPL) process may allow you to join a course without the formal entry requirements or enter your course at a point appropriate to your previous learning and experience. 
There are restrictions on RPL a for some courses and fees may be payable for certain claims. Please see the code of practice for recognition of prior learning and prior credit: taught programmes (PDF) for further information. 
Please contact Admissions on +44 (0)1483 682222 with any queries. 
Fees
The annual tuition fees for courses starting in September 2023
BEng (Hons)
UK

£9,250
Overseas

£23,800
BEng (Hons) (with professional training year)
UK

£9,250
Overseas

£23,800
Professional training

£1,850
BEng (Hons) (with foundation year)
UK

£9,250
MEng
UK

£9,250
Overseas

£23,800
BEng (Hons) (with foundation and professional training year)
UK

£9,250
Professional training

£1,850
MEng (with professional training year)
UK

£9,250
Overseas

£23,800
Professional training

£1,850
View a complete listing of all ongoing fees for our undergraduate courses.
Fees for UK students: The University will apply annual regulated increases in the fee rates as set by Government each year, in order to maintain the same value in real terms. 
Fees for EU students: The UK is now no longer part of the EU, we are awaiting further instruction from the UK government and we will publish this as soon as it is provided. Find out more information about Studying in the UK and the Scholarships for EU students.
Fees for international students: Annual fees will increase by 4% for each subsequent year of study, rounded up to the nearest £100, subject to any overriding applicable legislative requirements. 
Fees for international students with an integrated foundation year: The programme fee for Year 0 will match the lowest Year 1 overseas fee rate from across the substantive programmes for that year of entry. Students subsequently progressing into Year 1 will be liable for the same fee as overseas students joining at Year 1 for the same programme in that year. Annual fees after Year 1 will increase by 4% for each subsequent year of study, rounded up to the nearest £100, subject to any overriding applicable legislative requirements. 
The University will assess your fee status. If you are unsure whether you are likely to be considered a home, EU or overseas student for fees purposes, the UKCISA website offers more information.
Payment schedule
Students in receipt of a Tuition Fee Loan: will have their fees paid by the Student Loans Company in line with their schedule.
International students, or UK/EU students who have not taken out a Tuition Fee Loan: are required to pay their fees either in full at the beginning of the programme or in two instalments as follows:

50% payable 10 days after the invoice date (expected to be early October of each academic year)
50% in January of the same academic year.
The exact date(s) will be detailed on invoices. Students on certain part-time programmes, where fees are paid on a modular or stage basis, are not eligible to pay their fees by instalment.
If you are sponsored: you will provide us with valid sponsorship information that covers the period of your study.
Professional Training placement fees
If you are studying on a programme which contains a Professional Training placement year there will be a reduced fee for the academic year in which you undertake your placement. This is normally confirmed 12 to 18 months in advance, or once Government policy is determined.
See the information about 2023/24 academic year Professional Training placement fees.
Additional costs
There are associated costs with this course:
Books/stationery/admin: Costs may be incurred associated with the purchase of writing paper and associated stationary
Commuting (local travel expenses): Depending on placement, students can incur travel, visa and accommodation costs.
Scholarships and bursaries
---
We're committed to making sure that we offer support for students who might need it.
Placements
Our award-winning Professional Training programme offers you the option to spend a career-enhancing year in industry, either in the UK or abroad. We have thousands of placement providers to choose from or you can source your own placement. 
Most placements are paid, and we will support you every step of the way. 
Find out more about Professional Training placements and discover how these have transformed our students' lives and career choices. 
Computer and internet engineering placements
Well-known companies that have participated in our award-winning Professional Training placements include:
Avco Systems Ltd
Cisco Systems Ltd
IBM
Nintendo
Sky TV
Sony
Xceptor.
We also partner with many smaller companies which provide excellent placement opportunities. Many of our students return from these with offers of employment, often with financial sponsorship.
Professional Training placements can be used in partial fulfilment of the training component for chartered engineer status.
Applying for placements
Students are generally not placed by the University, however we offer support and guidance throughout the process alongside access to a vacancy portal representing thousands of placement opportunities each year. We also provide support if you wish to source your own placement. 
Find out more about the application process.
Please be aware there may be travel costs incurred when attending interviews and assessment centres at the placement provider's premises.
Study and work abroad
Studying at Surry opens up a world of opportunity. We want you to take advantage of our international partnerships, explore the world and expand your skills for the graduate job market.  
Perhaps you would like to volunteer in India or learn about Brazilian business and culture in São Paulo during your summer holidays? With more than 200 partnerships, from 50 different countries worldwide, there is something for everyone. 
View our study and work abroad information to find out more and see where you can go. 
Terms and conditions
When you accept an offer of a place at the University of Surrey, you are agreeing to comply with our policies and procedures, the student regulations , and our terms and conditions. These terms and conditions are provided in two stages: first when we make an offer and second when students who have accepted their offers register to study at the University. View our offer terms and conditions for the 2023/24 academic year and our registration terms and conditions (PDF) for the 2022/23 academic year as a guide as to what to expect. 
Please note: our offer terms and conditions will generally be available in the September of the calendar year prior to the year in which you begin your studies. Our registration terms and conditions will vary to take into account specifics of your course and changes for the specific academic year.  
Disclaimer
This online prospectus has been prepared and published in advance of the academic year to which it applies. The University of Surrey has used its reasonable efforts to ensure that the information is accurate at the time of publishing, but changes (for example to course content or additional costs) may occur given the interval between publishing and commencement of the course. It is therefore very important to check this website for any updates before you apply for a course with us and before you accept an offer. Read our full disclaimer.
Campus location
Stag Hill
Stag Hill is the University's main campus and where the majority of our courses are taught.
Placement location
As part of this course you have the option to complete a Professional Training placement which would require attendance off campus, depending on where you secure your placement.
Address
University of Surrey
Guildford
Surrey GU2 7XH