Artificial intelligence for wireless communications
In this research we investigate how to apply the rapidly burgeoning field of artificial intelligence and deep learning to the problems of radio communications links beyond 5G or 6G mobile networks in order to improve their performance and adaptability.
Overview
The vision of this research is to deliver a transformative artificial intelligence technology that can make a paradigm shift of wireless communication systems design from the conventionally hand-engineered approaches to AI-engineered (or AI-inspired) approaches. It is our aim to develop novel AI technologies for 5G, 5G+ and 6G mobile system identification and adaptation, new modulation and coding, future high-resolution communications, new MIMO, cell-less massive MIMO and joint sensing and communications.
The key technical scope of this research includes AI/deep learning:
Aided mmWave technology
Aided large massive MIMO technology
For non-linear wireless systems design and optimisation
For satellite communications
For source and channel coding
For ultra-reliable and low-latency communication
For cyber-physical systems
For high-accuracy radio positioning and sensing.
Get in contact
If you are interested in this research or have a query then please contact the project lead.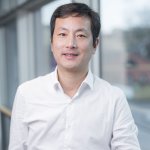 Project lead in artificial intelligence for wireless communications
Research areas
Take a look at the other research areas we are working on.