Theory and practice of advanced concepts in wireless communications
The scope of this research is to develop, realise and validate innovative communication concepts, algorithms and new computational architectures, in pragmatic communication scenarios via advanced "proof-of-concept" implementations and evaluations.
Overview
The topics of research include:
Development of advanced signal processing algorithms and computational architectures for 5G+ and 6G communication systems, including:

Advanced massively parallel algorithms and architectures for aggressively non-orthogonal signal transmissions and extreme device density and new advanced MIMO architectures including cell-less massive MIMO
Advanced ultra-low processing latency for ultra-massive device connectivity

System level design and demonstration via advanced standard-compliant testbeds able to support advanced large and massive MIMO approaches for 5G+ and 6G
Development of advanced software and hardware computing architectures for future base station processing beyond the traditional MIMO paradigm
New computational architectures for Tbps communications and new frequency bands (e.g. THz)
Highly efficient physical layer (PHY) design for open radio access networks (Open-RAN).
Get in contact
If you are interested in this research or have a query then please contact the project lead.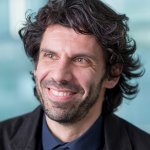 Dr Konstantinos
Nikitopoulos
Project lead for theory and practice of advanced concepts in wireless communications
Research areas
Take a look at the other research areas we are working on.