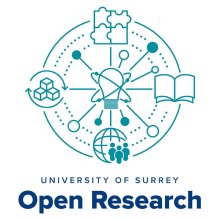 Make your research discoverable and visible
Guidance on ORCID and other persistent identifiers; advice on making your research more discoverable and visible. 
ORCID id: identifier for researchers
ORCID is a free to create, unique researcher identifier that is permanently linked to you.  It is important as it:
Ensures your research outputs, grant applications and activities are correctly attributed to you.
Connects you with your contributions and affiliations.
Makes your research outputs and activities more discoverable.
When linked with the Surrey Open Research Repository, allows the exchange of information between ORCID and our system to minimise the manual input of information. 
it is now essential for an increasing number of grant applications and UKRI have integrated ORCID with their grant system
Watch the Why ORCID? video to find out more.
The University strongly encourages all academic staff and postgraduate research students to sign up to ORCID.
Create an ORCID or register your existing ORCID:
Creating an ORCID takes less than two minutes. We recommend creating one within our Open Research Repository or (if you already have one) adding it to the Repository. This will help the exchange of research output information between ORCID, the Repository and other systems.
Visit the Open Research Repository
In the top right corner, select 'Surrey researchers sign in' (use your university username and password)
Select 'edit profile' (top left corner). Scroll down. Under 'global IDs', select 'register' or 'connect' your ORCID ID.
Watch the video How to Create or link your ORCID iD in the Open Research Repository to find out more. 
Use your ORCID iD:
Once you have create and ORCID iD, you can use it to maintain updated your affiliation and in your Publications or Funding Applications.
Publications
We recommend that you quote your ORCID iD when submitting a publication to a journal, whenever the submission system allows. We also recommend that you link your iD to your name in pre-print systems and services such as arXiv. You can also link your ORCID iD to your name in bibliographic databases such as Scopus. Quoting your iD when submitting or uploading your work increases your chances of being accurately identified as the author of your publications.
Funding
UKRI encourage applicants to add their ORCID to the Je-S application system and any iDs in Je-S are made visible on Gateway to Research. The Wellcome Trust and some NIHR programmes now require applicants to have ORCID iDs. Funder-specific information:
DOI: identifier for digital research outputs
The digital object identifier (DOI) is a persistent identifier used for journal articles, but DOIs can be also used for other research outputs. DOIs do not change even if your publisher or data repository changes. DOIs can also help with plagiarism screening, cited-by linking, text and data mining etc.
Getting a DOI for your research outputs provides a permanent link to them, so makes it much easier for others to find your work and cite it correctly.
At Surrey, we can assign DOIs to the following research works:
Art works
Book chapters
Compositions
Data and data sets – this is now a requirement of the University's Research Data Management Policy (PDF)
Performances
PhD theses - this is now part of the University's e-theses process
Portfolios
Preprints
Reports
Working papers.
ISBN: identifier for books
An ISBN is a persistent identifier for books, monographs or conference proceedings. It allows different product forms and editions of a book, whether printed or digital, to be clearly identifiable. It facilitates compilation and updating of book-trade directories and bibliographic databases, such as repositories.
The University of Surrey holds a licence to register ISBNs.
If you are hosting a conference and need an ISBN for your conference proceedings, please email us (openresearch@surrey.ac.uk) the details of the conference and we will allocate an ISBN.
Similarly, if you want to privately publish a report or monograph, send us the information and we will assign an ISBN.
These works can also be made available via the SRI Open Research Repository.
Promote your research
Once you have shared your research Open Access, it is important that you publicise your work further, to make sure that it is as visible as possible, to as many audiences as possible. Below we provide some advice on how to increase the visibility of your research.
Use the profile to link your publications to your name and help others follow your work. Please note that as Google does not have the data quality checks that some of the other tools (Web of Science, Scopus etc.) have, you need to ensure that information you add to you profile is accurate.
Google Scholar allows you to track citations for your publications. However, Google metrics have limited scrutiny checks and may report citation data not collected by other tools.
Use networks like ResearchGate and Academia.edu.
Use commercial platforms to promote your research and connect with other researchers. However, avoid uploading copies of your publications onto these platforms as in most cases this infringes copyright. Instead, link to the legally compliant version in the University's Open Research Repository where we make sure that copyright conditions are always checked and met.
Promote your article on Twitter, Facebook and any other social networking sites you use, by announcing your published work along with a link to your article. Use hashtags relevant to your subject and consider tagging colleagues to encourage them to re-share the paper.
Surrey is a founding partner and current member of the The Conversation, a news, analysis and commentary website focused on academic content.
The Conversation offers you an additional platform through which you can raise the profile of your research and engage with the wider public, by talking about your research in a more accessible way. See their guidance on becoming an author if you wish to contribute.
Tips for getting your research data discovered
There are a number of things you can do to make your research data easy to find, easy to reuse and importantly, easy to cite.
Use a disciplinary repository
Deposit your data in a disciplinary repository (see storing and preserving your data):
A recognised disciplinary repository is the first place others in your field will look for data that is relevant to their research
Disciplinary repositories will often put more effort into curating and promoting your data
Data repositories will rank highly in search engine results
If an appropriate disciplinary repository doesn't exist, you can use a generic one such as Zenodo and Figshare or use the University's Open Research Repository.
Write clear metadata
Ensure the metadata record associated with your research data is as clear, comprehensive, and as complete as possible. The better the description of your data, the easier it will be to find and identify it.
Use a DOI
Get a DOI assigned to your research data and use it:
A DOI is a permanent link to the location of your data; it's the quickest way to ensure that other researchers can find your data quickly and easily
Remember to include the DOI in the data statement of any relevant publications.