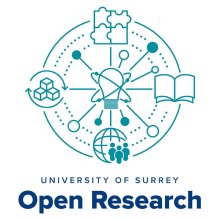 Open Research in Practice module
Find out information on the Open Research in Practice module; how to register, complete and get the Open Research badge.
About the module
Open Research in Practice is an online module introducing key aspects of Open Research, including Open Access, open data, open licences, reproducibility, study preregistration, open source, Open Educational materials, and more.
Open Research is not a one-size-fits-all approach and the module reflects this. While some essential actions highlighted in the course are required by funders and University policies, overall, the aim of the module is to provide an overview of different practices, discuss their relevance to different disciplines and encourage you to adopt practices relevant to your research field.
After completing the module, you are encouraged to create a basic Open Research plan, identify any further training needs and take part in discussions and updates on open practice.
Who the module is for
This module is suitable for those new to Open Research as well as those who already practise it.
You can access the module if you are a member of staff or a PGR at Surrey.
How to take the module
There is no need to register, the module is ready to start whenever you want to. The module is available to all Surrey staff and PGRs on SurreyLearn.
How long it takes to complete
The module is organised around 14 units that include videos, activities and short quizzes. On average it takes around 60 minutes to complete. It is self-paced so you can do it all in one go or mark your place and pick up from where you left if you prefer.
Although you are encouraged to look at all the content, you can also focus just on the sections you feel are most relevant to you.
Finally, there is a list of further resources if you wish to follow up on what you have learned, after the end of the module.
Completion and badging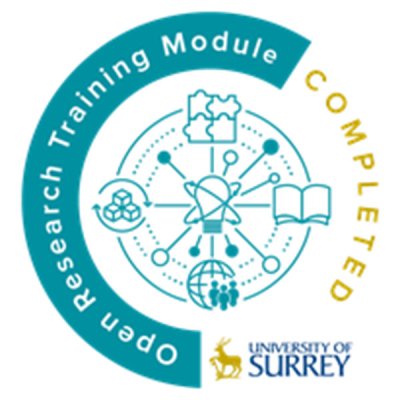 The quizzes and other activities within the module are there to help you consolidate your knowledge. Your responses to these activities are not recorded.
To complete the module, you submit a 10-minute questionnaire to help you plan your next steps in Open Research. To support this, a checklist of essential and recommended follow-up actions (PDF) is provided to you as a guide. Your responses to the questionnaire are recorded, and you can save them for future reference.
On completion, you are awarded the Open Research badge: a verifiable, portable and shareable digital micro-credential with embedded information about the training you completed. The badge can be added to your CV, website, and on social media (e.g., LinkedIn).
What others say
I found this module very helpful and interesting! I thought everything was important to cover, even aspects that weren't specifically relevant to me were good to know. There were a lot of things I hadn't heard of before like pre-registering studies, and feel a lot more knowledgeable particularly with creative commons licenses. I particularly like the checklist at the end as there is a lot of content covered throughout the module and it provides a good summary and action plan.
The module is engaging and interesting. I would recommend to all researchers irrespective of their career stage and research experience.
I really liked that it was online and I could take it at my own pace. The exercises and videos were particularly useful for me. I would have liked a bit more detail on open education. I had no technical issues and intend to go back to the module to explore the additional resources going forwards.