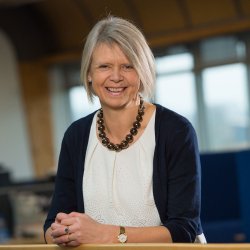 Professor Helen Griffiths
---
Executive Dean of the Faculty of Health and Medical Sciences; Professor of Biomedical Sciences
BSc, PhD, FRSB
Executive Assistant: Carol McKinley
About
Biography
Helen Griffiths was appointed as Professor of Biomedical Sciences and Executive Dean of the Faculty of Health and Medical Sciences at the University of Surrey from December 2016. She is a member of the University Executive Board.
Helen graduated with first class BSc (Hons) degree in Biochemistry from Bath University in 1985. She gained her PhD on "Reactive oxygen species damage in rheumatoid arthritis" from the Faculty of Medicine at Birmingham University (1989). She has previously been an academic faculty member at Birmingham University, Leicester University and Aston University where she was awarded a personal Chair in Biomedical Sciences in 2005. She founded the Aston Centre for Healthy Ageing in 2009 and was elected as a Fellow of the Royal Society of Biology in 2011.
Helen served as Associate Dean for Research in the School of Life and Health Sciences between 2005 and 2009, was then appointed as Executive Dean of the School of Life and Health Sciences at Aston University from November 2009 to November 2014. She was appointed as Pro-Vice Chancellor International Relations in April 2015.
Affiliations and memberships
Editorial Board of Biogerontology
Board member
Free Radical Research
Editor
Research

Research interests

Helen has published over 170 peer reviewed papers. She has pursued an increase in understanding of the roles of nutrients in health, inflammatory and degenerative diseases that increase with ageing [3-5].

These studies have highlighted that a non-linear relationship exists between "vitamin E" (alpha tocopherol) and periodontal health [3]; that carotenoids are lower in vascular dementia in a mnaner that is unrelated to intake [5]; and that the benefit of almonds, which are rich in alpha tocopherol, on vascular health is unrelated to antioxidant effects [4].

Most recent studies in this field have characterised the profile of dietary lipids [1] and their oxidised products in ageing and dementia [2], shedding new light of regulation of cellular metabolism.

Research projects

Redoxit is a four-year programme of knowledge transfer and networking between University of Surrey (Surrey, UK), Aston University (Aston, UK), Friedrich-Alexander Universitat (FAU, Germany) and Redoxis AB (Redoxis, Sweden). 

Public health advice about nutrition is of a general nature. Recommendations include advice on consuming oily fish each week and eating a number of fruit and vegetable portions daily. In moving towards a personalised nutrition strategy, dietary recommendations should be fine-tuned to an individual's health, activity, preferences and motivations. Research has shown that nutritional strategies would be more likely to be adopted if they include a range of technologies which enable users to monitor their status. This could include wearable devices that monitor lifestyle and energy needs, self-diagnostic devices that report of nutritional requirements and app technology that includes motivational tools and encourages people to stick with the nutritional programme. Each of these technological possibilities for the silver economy is founded on the principle of understanding the requirements and benefits of particular nutrients for older adults. 

In order to help innovators to create products, services and systems that improve the quality of life for older adults through innovation in personalised nutrition we have developed the following project guide. Supported by the evidence-base provided here through systematic reviews of the nutritional requirements of older adults, successful InCluSilver projects will address the following gaps, to:

Use knowledge of silver consumer behaviour to support the uptake of personalised nutrition by older adults
Develop services and systems that define individual nutritional needs based on lifestyle, genotype, activity and health status
Design and implement systems that enable monitoring of nutritional health status in older adults
Develop new foods that meet the nutritional, taste and mastication requirements for healthy older adults in health and those with chronic conditions associated with older age
Develop meal packaging and preparation approaches that can be physically managed by older adults
The adaptation and development of personal monitoring devices for reporting on the effect of meals on health indices
Design and implementation of mobile apps that offer coaching on diet based on user-friendly but highly detailed data.

 

NeutroCure is developing ways to control the spatial and temporal amplification of ROS generation to effectively treat severe pathological conditions characterised by a dysfunction in ROS homeostasis.

Research collaborations

Helen's research has always been carried out in collaboration with clinical and industrial collaborators with the goal to develop new knowledge that has impact for health. She has worked with Unilever for over 10 years and partners with Mologic Ltd and GSK.

Indicators of esteem

Editor for Redox Biology and Free Radical Research

Co-Chair of the Development Board of the British Society for Research on Ageing 2015-2017

Chair of the British Society for Research on Ageing and Biogerontology (2013-16)

Member of the SFRR-E Council (2012-2016)

Secretary on the Executive Board of the Society for Free Radical Research (2008-2012)

Previously chaired a European Task force for Biomarkers of oxidative damage, in the EUROfeda programme funded under framework 6
Supervision
Postgraduate research supervision
Postgraduate research supervision
Publications
Pararasa C, Ikwuobe J, Shigdar S, Boukouvalas A, Nabney IT, Brown JE, Devitt A, Bailey CJ, Bennett SJ, Griffiths HR. Age-associated changes in long-chain fatty acid profile during healthy aging promote pro-inflammatory monocyte polarization via PPARγ. Aging Cell. 2016 Feb;15(1):128-39.
Dias HK, Brown CL, Polidori MC, Lip GY, Griffiths HR. LDL-lipids from patients with hypercholesterolaemia and Alzheimer's disease are inflammatory to microvascular endothelial cells: mitigation by statin intervention. Clin Sci (Lond). 2015 Dec;129(12):1195-206.
Zong G, Scott AE, Griffiths HR, Zock PL, Dietrich T, Newson RS. Serum α-Tocopherol Has a Nonlinear Inverse Association with Periodontitis among US Adults. J Nutr. 2015 May;145(5):893-9.
Choudhury K, Clark J, Griffiths HR. An almond-enriched diet increases plasma α-tocopherol and improves vascular function but does not affect oxidative stress markers or lipid levels. Free Radic Res. 2014 May;48(5):599-606.
Dias IH, Polidori MC, Li L, Weber D, Stahl W, Nelles G, Grune T, Griffiths HR. Plasma levels of HDL and carotenoids are lower in dementia patients with vascular comorbidities. J Alzheimers Dis. 2014;40(2):399-408.