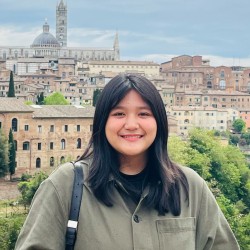 Frances Penelope Recto
"As an international student, the University's dedication to making me feel at home has been remarkable. Dedicated services and resources, coupled with a commitment to inclusivity and cultural diversity, eased my homesickness. The University of Surrey ensured that my experience as an international student was more than just studying abroad – it was about finding a new home away from home."
Why did you choose to come to Surrey?
The University of Surrey aligned perfectly with my long-term goal of working in foreign policy and analysis. During my undergraduate studies in political science in the Philippines (at De La Salle University in Manila, the Philippines), I recognised the significance of understanding the intricate dynamics between the government and its people, both at a local and global level. This appreciation was further amplified through my previous job experience in public service, which deepened my commitment to studying international relations. Seeking to enhance my expertise in research and analysis, the University of Surrey's outstanding academic reputation, inclusive culture, and holistic learning approach caught my attention. Specifically, I believe that its MSc International Relations course will equip me with invaluable skills and opportunities that will help me pursue my future career goals effectively.
What was your impression of Surrey?
My impression of Surrey has been nothing short of exceptional.
"This University has provided me with an outstanding learning environment that has promoted my professional and personal growth. It also has highly accomplished lecturers who have consistently delivered quality education and state-of-the-art facilities that have left an impact on my academic journey."
What sets Surrey apart, however, is the unwavering support and encouragement I received from everyone.
As an international student, the University's dedication to making me feel at home has been remarkable. Dedicated services and resources, coupled with a commitment to inclusivity and cultural diversity, eased my homesickness. The University of Surrey ensured that my experience as an international student was more than just studying abroad – it was about finding a new home away from home.
Why are you passionate about your subject?
My passion for international relations is rooted in my personal experiences. It all began when I took an international relations module during my undergraduate studies. This course opened my eyes to the inner workings of states, international security, conflict, cooperation, and the significance of my country's position in the global arena. However, it was during my full-time job as a public servant in the Philippines, where I faced real-life cases, that my passion truly flourished. Assisting stranded constituents in foreign countries ignited a desire within me to make a difference in this field. I am now driven to address the same strategic problems in a more global scale.
Why did you choose to study your course at Surrey?
The MSc International Relations course at the University of Surrey is instrumental in helping me achieve my aspirations. It offers a comprehensive and in-depth study of international relations, equipping me with the necessary knowledge and skills to tackle complex global challenges. Through this programme, I gained a deeper understanding of the dynamics between states, international security issues, and diplomatic strategies.
The course curriculum provided me with opportunities to explore case studies and engage in critical analysis, which all enhanced my problem-solving abilities. Undertaking this MSc course, I became equipped with the expertise and insights needed to make a significant impact in the field and contribute to shaping a more secure and inclusive world.
What are the academic staff and facilities like on your course?
"While I deeply appreciate the dedication and professionalism shown by my professors, what truly stood out for me, however, was their willingness to engage in enriching discussions beyond the confines of the classroom, which really played a significant role in deepening my understanding of the subject."
I am grateful for their commitment to fostering a dynamic learning environment where I was encouraged to voice my opinions and share diverse perspectives. These engaging discussions not only enhanced my understanding of the subject but also fostered a sense of intellectual growth and curiosity.
Are you part of any clubs or societies? How have they contributed to your Surrey experience?
Yes, I was the MSc International Relations course representative, where I worked closely with the Students' Union. As a course representative, I served as the liaison between my fellow students and the academic staff, addressing any concerns or suggestions raised by my peers. This position has allowed me to actively contribute to enhancing the student experience within my programme. Moreover, being part of the Students' Union has opened doors for me to engage with a diverse range of individuals from different disciplines and backgrounds. Through these interactions, I have been able to expand my horizons, gain new perspectives, and foster valuable connections that have enriched my Surrey experience.
Have you lived in University accommodation? If so, what is/was it like?
I had the wonderful opportunity to live in Millennium House, which happened to be conveniently located near the Duke of Kent building. It offers the unique experience of being within the University premises, which fosters a strong sense of community and facilitates easier access to academic facilities.
 
In Millennium House, I shared the space with five other flatmates. As an international student, the initial experience of living away from home was quite daunting. However, living alongside fellow students who shared similar experiences and faced similar challenges provided a reassuring sense of belongingness. It was comforting to have a support system and build meaningful connections with individuals who understood what it means to be away from home.
Looking back, my flatmates became more than just friends – they became like a second family. Living in University accommodation has not only provided me with a comfortable living space but has also gifted me with lifelong friendships that I cherish deeply. I couldn't have asked for better friends during my time at Surrey.
What are the best things about life in general at Surrey?
One of the best things about the University of Surrey is its location in Guildford. I appreciate the balance it strikes, as it's not too loud and not too quiet. It provides the perfect environment for focusing on studies while still having a variety of social activities.
The campus itself is a hub of convenience. Everything I need is within easy reach. Whether it's buying stuff from town, catching a train to explore other places, or simply enjoying the campus facilities, it's all just a stone's throw away.
Its proximity to the train station is particularly advantageous, allowing for effortless travel to nearby destinations and even to the bustling city of London.
Do you feel supported at University?
I have been incredibly lucky to receive support throughout my university experience. Dr Malte Kaeding, my personal tutor, has been an invaluable source of guidance not only academically, but also in navigating any personal challenges or situations I had. Likewise, Dr Nikolaos Gktosis-Papaioannou, my well-being tutor, lecturer, and dissertation supervisor, has provided support and guidance throughout my time at the University. I am immensely grateful for their unwavering dedication and support to my success.
I also want to thank my lecturers from the Politics Department - Dr Roula Nezi, Dr Alex Leveringhaus, Dr Ciaran Gillespie, Dr Alia Middleton, and Dr Jonathan Hall for their assistance whenever I needed it. Their support has made my journey at Surrey truly memorable.
What has been your best moment at Surrey so far?
Choosing a single best moment at Surrey is hard because I have loved every day of my life here. From the ups and downs to the countless memorable experiences, each aspect has contributed to shaping who I am today. Whether it's the joy of academic achievements, the friendships formed with fellow students, or the sense of belonging within the vibrant campus community, every moment will be wholeheartedly cherished. Reflecting on my time at Surrey, if I had the chance to re-do it, I would undoubtedly choose Surrey again and again. It has truly become a place that holds a special place in my heart.
Do you have any advice for students thinking about postgraduate study?
"When it comes to postgraduate study, my advice is to follow your heart and pursue a course that truly ignites your passion."
Choose a programme that aligns with your goals and aspirations. Once you've made your choice, put in the hard work and dedicate yourself to achieving academic excellence. Take advantage of the resources available to you and immerse yourself in research and learning. However, amidst all the hard work, don't forget to enjoy the journey.
Embrace the personal and intellectual growth that comes with postgraduate studies, connect with fellow students and faculty, and actively participate in whatever activities the University has to offer. By staying true to your passion, making informed decisions, giving it your all, and finding joy in the experience, you can make the most of your postgraduate journey and lay a solid foundation for a fulfilling future.
Finally, do you have any other comments you'd like to offer about your time at Surrey?
My time at Surrey has been absolutely incredible. The University has provided me with a nurturing environment that has fostered both my personal and academic development. The support and encouragement I received from my lecturers and peers have been instrumental in shaping my journey, and I am truly grateful for their dedication and guidance. The campus itself is a vibrant and dynamic hub of activity, with beautiful surroundings that never failed to inspire me. But what really makes Surrey special is the people. The friendships and connections I've made with fellow students have enriched my experience beyond measure. I will forever cherish the memories, the laughter, the ups and downs, and especially the growth I've experienced during my time at the University of Surrey.