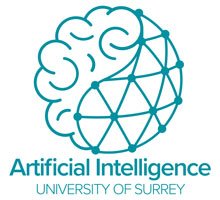 Digital economy and business
AI will be the backbone of tomorrow's digital economy and business world. The technology will drive a greater choice of products and services, offer high levels of personalisation, and enable companies to improve their productivity by automating labour-intensive tasks and roles.
AI for digital economy and business

For people to engage in newly-available AI-based services, there are significant trust issues to overcome. One of the research focuses within Surrey's Centre of Digital Economy (CoDE) is the misalignment of interests and the asymmetry of power between service providers and users. This is preventing individuals from using personalised services because of concerns about the potential loss of control over personal information.
Surrey's academics have proposed a system which promises to provide both privacy protection and personalised features by integrating the Hub-Of-All-Things (HAT) – a personal data store – with state-of-the-art AI technology for data search and understanding.
CoDE is also researching the use of AI in predicting future economic success. In the film industry, there is an increasing trend towards creating customer-centric services and products, and also co-creating content with the customer. CoDE's researchers have developed an automated analysis system which uses machine reading of scripts to help authors edit the emotional journey of stories, with each journey model matched to its performance data (box office/critics/viewer journeys). The system enables writers to predict potential returns or reviews, which has significant implications for improving business outcomes in a highly competitive industry.
How AI is changing the laws of finance

Within the financial services sphere, AI and machine learning are creating a seismic shift in terms of the way that banks and other financial institutions engage with customers. Surrey Business School's Department of Finance and Accounting is working in partnership with government and financial organisations to identify how AI is changing the financial services industry in areas such as fraud detection, banking chatbots and robo-advisors, algorithmic trading, and regulation and policy.
The Department's academics recently contributed to an Alan Turing Report 'AI in finance', which explored the question of whether AI is so different from previous technological advances that it could actually upend the laws of finance. Leading on from this work, in June 2019, Head of Department Professor Bonnie Buchanan testified as a witness at the House of Financial Services' Task Force on Artificial Intelligence at Capitol Hill in Washington DC.
Building a sustainable economy
Another factor driving much of Surrey's research in the sphere of business is the need to balance economic development with sustainability. The Centre for Environment and Sustainability (CES) has a strong research focus on the 17 United Nations Sustainable Development Goals and their 232 indicators, and applies Earth observation, AI, machine learning and novel data management and mining techniques to this research. With a long history of using applied systems analysis such as life cycle assessment, CES is increasingly working with large datasets to answer sustainability challenges.
AI transforms how businesses operate

Quadruped robots and Unmanned Aerial Vehicles (UAVs) have started to appear on construction sites for surveying purposes. Pallets are moved by autonomous forklift-trucks in warehouses in a coordinated and optimal way. These are just a few examples of how AI is transforming the industry. Researchers at the Business Transformation department are exploring new ways of how AI can transform the future of business: