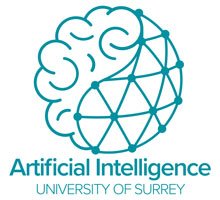 People and society
Researchers at the University of Surrey are interested in the impact of AI on society such as addressing the social, economic and ethical problems arising from the use of AI technologies across the sector of the hospitality, tourism industry and exploiting advances in AI and deep learning in order to create tools which can change people's diet-related behaviour over the long term.
Food and nutrition

Nutrition is an integral part of human health and overall wellbeing, and a healthy diet is essential for the prevention of non-communicable diseases (NCD) and mortality. With an ageing population in the UK, it is becoming ever more important to encourage people to eat well and participate in physical activity in order to facilitate healthy ageing.
A major focus for Surrey's Department of Nutritional Sciences and its Food, Consumer Behaviour and Health Research Centre is exploiting advances in AI and deep learning in order to create tools which can change people's diet-related behaviour over the long term.
PROTEIN project
The University is a partner in the Horizon 2020 PROTEIN project – launched in 2015 – which aims to create an advanced, dynamic personalisation tool that can be used at home, at a restaurant or in the supermarket, supporting individuals to meet their own evidence-based healthy eating targets. Combining insights from genetics, nutritional science and behavioural science, PROTEIN represents a shift in our thinking about how best to transition towards a sustainable, healthy diet.
The PROTEIN AI Advisor tracks the user's dietary intake, physical activity and health status using wearable sensors, and provides real-time AI recommendations and early warnings for specific NCDs. The technology incorporates deep learning to collect and analyse large volumes of data and, to facilitate this component, Surrey is running two trials with participants from a number of target groups such as healthy adults and adolescents, athletes, and adults with cardiovascular disease. The quantitative and qualitative data collected will then be used to refine the system before commercialisation.
Pan-European research infrastructure
Surrey is also playing an integral role in helping to build a pan-European research infrastructure that will enable system-level analysis of the complex problem of nutrition-related health. In 2005-10 we were part of the European Food Information Resource Network project which succeeded in developing – for the first time in Europe – a single online platform with up-to-date food composition data across Europe. We also worked with partners across Europe in the EuroDISH study on the need for food and health research infrastructures in 2012-14 which mapped the determinants of food choice, intake of foods and nutrients, status and functional markers of nutrition health, and health and disease risk.
Building on this earlier work, the University is currently part of the international Europe-wide Food, Nutrition and Health Research Infrastructure (FNH-RI), which aims to link over 1,000 research institutions and pool their associated expertise. Harnessing advances in AI and data analytics, this infrastructure will be a virtual environment in which data can be combined, validated, compared and linked. FNH-RI will enable big data synergies throughout the food system (for example retail loyalty cards), and will establish new standards and services for transdisciplinary data exchange and innovation within the consumer and food environment.
Hospitality and tourism

AI is poised to radically transform how value is created in the hospitality and tourism industry. From optimising supply chain management and resource use to producing and delivering services in novel ways, companies in the sector are increasingly turning to intelligent machines.
There is a huge potential for automation in the sector, especially given its projected growth as more people than ever engage in travel. High reliance on manual labour, combined with a diminishing pool from which to recruit these workers (due to an ageing population and falling birth rates), is driving operators to automate some, or all, of their routine tasks. This poses important questions about the future of employment in the sector, especially in the context of the United Nations' Sustainable Development Goal to 'promote inclusive and sustainable economic growth, employment and decent work for all.'
Tackling AI problems
To tackle the social, economic and ethical problems arising from the use of AI technologies across the sector, Surrey's School of Hospitality and Tourism Management – the leading School of its type in the UK – has launched several streams of research activity. Hack Hospitality, an industry-facing initiative backed by ESRC's Industry Engagement Fund, has brought together policymakers, start-ups and representatives from a broad range of backgrounds (including hospitality, tourism, design, robotics and AI) to construct, share, and discuss visions for the sector's future. This project has resulted in two open-access white papers as well as several articles in academic journals.
Impact of AI on society
Another school project, Surrey Research Forum on AI (SuRF-AI), has broadened the conversation about the impact of AI on society. Launched in 2019 and endorsed by the University's Doctoral College, SuRF-AI is an informal space which aims to foster research collaboration between postgraduate researchers and early career researchers around the topics of AI and cybersecurity, AI and productivity, and AI and creativity.
At the Forum workshops, guest speakers from industry and Surrey's researchers share their views around emergent technologies, with the aim of identifying areas where more research is critically needed. Arising from these discussions, a number of cross-disciplinary grant submissions are already in the pipeline.