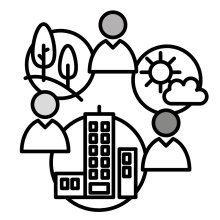 Understanding people's relationships with social and physical environments research theme
Understanding how health and development are impacted by an individual's environment.
The challenge
Physical and social environments impact on the way people think, act and feel. At the same time, people are constantly changing those physical and social environments. Understanding how we act in and towards our homes, schools, workplaces and leisure spaces is essential to tackling many societal and environmental challenges and ultimately to enhancing health and wellbeing. Efforts to support social justice for all, to ensure the ethical treatment of patients and to improve children's education all rely on such behavioural insights, as do those to promote sustainable futures by tackling energy wastage and marine litter.   
Our response
Within the theme, we draw on a wide range of traditional and novel research methodologies to deliver evidence-based solutions that matter. Studies of how moral distress arises, health care teams work together, and how facilities are designed and built, inform approaches to improving work cultures, the ethical climate of organisations, staff wellbeing and patient outcomes. Investigations of developmental processes probe the two-way interaction between environments and cognitive, social, emotional and mental health outcomes. Monitoring the reactions of those immersed in virtual reality environments enables an in depth understanding of people-environment interactions, including how to retain ethical decision making in times of stress and why interaction with nature (and with companion animals) enhance wellbeing.
Research projects
Active projects
Completed projects