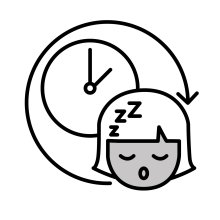 Chronobiology and sleep research theme
Alleviating disrupted sleep and managing circadian timing for improved health outcomes.
The challenge
Sleep is a major determinant of well-being, performance and both mental and physical health. Disruption to the timing, duration and quality of our sleep can have implications for cognitive and physical abilities, our safety and productivity, and the development and progression of disease. The circadian timing system, present in all mammals, regulates daily rhythms in almost all aspects of cell and system physiology and behaviour, including our sleep-wake cycle. In addition to these daily/circadian rhythms, there are also ultradian (< 24 hour) and annual (seasonal) rhythms in our biology, although their function in health and disease is less well understood. Disruptions to biological rhythms are often a consequence of mistimed eating and sleeping in our 24-7 society and a feature of many disease states. How circadian, ultradian and seasonal rhythms underpin physiology (e.g., metabolic pathways, sleep/wake regulation, immune cell trafficking, cardiac rhythms) and behaviour in health, disease and shiftwork/emergency response environments are current challenges.
Our response
During the past four decades, chronobiology and sleep research at the University of Surrey has made ground-breaking discoveries in the function and regulation of sleep and biological rhythms across the lifespan and in a range of patient groups. Unravelling the links between sleep/circadian disturbances, the environment and consequent health outcomes, has informed the development of novel interventions for circadian rhythm sleep-wake disorders (e.g., melatonin administration and blue-enriched light). New insights from this pioneering interdisciplinary research at Surrey have had major national and international impacts such as:
Successful development of new medicines and technological solutions for sleep and circadian rhythm disorders (included in the REF 2021 submission).
Attracting significant and regular media attention.
Raising awareness of the importance of body clocks, meal timing (Chrono-nutrition) and sleep among the general public and clinicians.
Changing industry standards and advice on lifestyles based on the research conducted.
The depth and breadth of our research at Surrey is reflected in the many highly cited publications in leading scientific journals, and in the wide range of our grant funding bodies BBSRC, The Dementia Research Institute, Wellcome Trust, EU, MRC, AFOSR, NIH, Diabetes UK, the Colt Foundation and lighting and pharmaceutical industry.
Research projects
Active projects
U-RHYTHM: A powerful research tool for studies on human rhythms in health and disease
How sleep changes brain connections: insight from the translatome of dendrites
Completed projects
Time is of the essence: Revealing the elusive 'bone clock' in humans
Timing, quality, and physiology of sleep in a deprived community cohort in South Africa, and their relationship with chronic disease