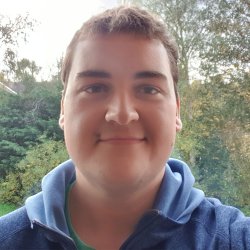 Angus Allen
---
Postgraduate Research Student
My research project
Investigating light harvesting in purple bacteria using metabolic approaches
In photosynthesis, the capture and transfer of light energy in the light harvesting complexes (LH1 and LH2) has an extremely high efficiency that cannot be fully explained by classical energy transport mechanisms.
Recent work however, has indicated that the interaction between vibrational and electronic dynamics can create and maintain quantum coherence in biological systems, which may contribute to the efficiency of such phenomena. Specifically, studies on the LH2 complex have demonstrated long-lived coherence, evidenced by the detection of "quantum beating" in 2D optical spectroscopy.
My project aims to investigate the role of vibrational motions in the quantum coherence of light harvesting complexes of the photosynthetic, non-sulphur, purple bacteria Rhodobacter sphaeroides. Using metabolic methods, heavy isotopes will be incorporated into the bacteriochlorophyll molecules present in Rhodobacter's light harvesting complexes with the intention of perturbing coherence and thus reducing the efficiency of energy transfer.
Metabolically labelled bacteriochlorophyll pigments will be purified from Rhodobacter and have their optical properties examined using techniques such as Ramen spectroscopy and 2D optical spectroscopy.
Supervisors