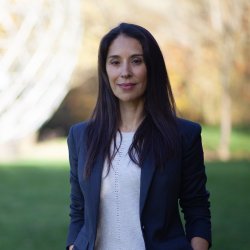 Dr Bethania Antunes
---
Lecturer in Human Resource Management
About
Biography
I earned my PhD from London School of Economics (LSE) where I examined pay strategy in large non-profit organisations as they take on the role of providers of public services in the UK. Prior to joining Surrey, I was Lecturer in Reward Management at University of Greenwich, where I also served as Programme Director in the MA International HRM. I have since, researched extensively the topics of non-standard employment contracts, gender pay gaps, employee volunteering, and non-profit management. I have a strong research interest in sustainable HR practices, and I aim to advance academic knowledge on how organisations engage with social issues and make a positive impact in the workplace and in the communities in which they operate.
My research has been published in international academic journals, I have won external grants and produced research reports funded by the European Commission, Low Pay Commission, and the Trade Union Congress. I am currently collecting data for a study examining the challenges and opportunities associated with corporate volunteering programmes and how employers facilitate employee volunteering. I am very much interested in building partnerships with stakeholders in the for-profit and non-profit sector with a view to promoting and sharing sustainable practices in organisations.
Research

Research projects

Closing the Gender Pay Gap in EU Public Services in the Context of Austerity

Feb 2019/Aug 2020 - Funder: European Commission (374,000 Euros); Research collaborators: Centre for Research on Employment and Work (CREW)  University of Greenwich, European Federation of Public Services Union (Belgium), Central European Labor Studies Institute (Slovakia) and Fondazione ADAPT (Italy).

What do we know about rewards for whistleblowers?

March 2018 - Funder: Financial Conduct Authority (£5,000). Commissioned literature review with Dr Wim Vandekerckhove, University of Greenwich.

Great jobs – the added value from trade unions

Sep 2017 - Funder: Trade Union Congress (£25,000); Collaborator: University of Greenwich

The impact of the New Living Wage on individuals with non-standard employment arrangements

Sep 2016 - Funder: Low Pay Commission (£30,000); Collaborators: University of Greenwich; University of Sheffield, UWE.
Teaching
MAN2136 Employee Relations (UG)
MANM496 Leading and Developing People and Organisations (MBA)
Publications
Moore, S., Onaran, O, Guschanski, A., Antunes, B. and Symon, G.
(2019)
'The resilience of collective bargaining – a renewed logic for joint regulation?' Employee Relations: The International Journal, Vol. 41:2, pp. 279-295. 
Moore, S., Tailby, S., Antunes, B., & Newsome, K.
(2018)
'Fits and fancies': The Taylor Review, the construction of preference and labor market segmentation. Industrial Relations Journal, 49:5-6, pp. 403-419. 

Antunes, B.
(2015)
Pensions in Wilkinson, A. and Johnstone, S. (Eds.) Encyclopedia of Human Resource Management, Edward Elgar. Cheltenham.
Moore, S. & Antunes, B.
(2018)
Great jobs – the added value from trade unions. Project Report. Trade Union Congress.
Moore, S., Antunes, B., White, G., Tailby, S. & Newsome, K.
(2017)
Non-Standard Contracts and the National Living Wage: A Report for the Low Pay Commission. Project Report. Low Pay Commission.
Veersma, U., William, L., Antunes, B. & Symon, G.
(2017)
Bargaining for Productivity: National Report UK. Project Report. European Commission.