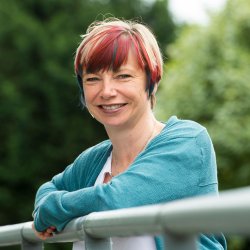 Dr Jacquetta Lee
---
Reader in Sustainable Systems Analysis, Associate Director of the Practitioner Doctorate Programme in Sustainability
Biography
Dr Lee has a MEng in Mechanical Engineering and Materials and holds a PhD in Environmental Systems Analysis from Cranfield University. Prior to joining the Centre for Environment and Sustainability at the University of Surrey, she worked for Rolls-Royce plc in their Environmental Strategy Department, specialising in Life Cycle Assessment and Design for Environment.
On joining academia in 2003, she spent two years as a Leverhulme Special Research Fellow, investigating the potential for television to influence environmental behaviour of consumers. Dr Lee has a holistic approach to sustainability systems analysis, incorporating environmental and social aspects from both academic and industrial perspectives. She has over 25 years of experience across a diverse range of industrial sectors including aerospace, electronics, construction, agriculture, fast moving consumer goods market, automotive, nanotechnology, architecture, and nuclear energy.
As Director of the Practitioner Doctorate in Sustainability Programme and Reader in Sustainable Systems Analysis at the at the University of Surrey, Dr Lee is responsible for engaging major industry leaders and high calibre postgraduate researchers to work collaboratively on specific research briefs designed to resolve current sustainability issues within industry. This innovative programme offers an unparalleled opportunity, uniting academia and industry to develop solutions that will have enduring value for individual organisations, industry and governance.
University roles and responsibilities
Associate Director of the Practitioner Doctorate Programme in Sustainability
Affiliations and memberships
International Society for Industrial Ecology
Immediate past Executive Secretary
Research
Research interests
Current areas of research interest include the operationalisation of absolute sustainability through:
Business appropriate mid-point indicators for Life Cycle Sustainability Analysis
The development of Stock and Flow (Performance Economy) diagrams for decision making in business
Social life cycle assessment approaches
Using internet trends to optimise the circular economy.
I am leading research into reducing uncertainty in early design decision making within aerospace, and improving resource efficiency in the electronics industry.
My teaching
Life cycle thinking and approaches
Environmental life cycle assessment (eLCA)
Design for Environment/Sustainability