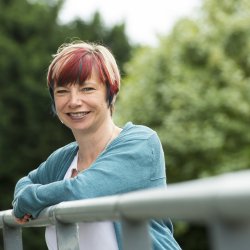 Dr Jacquetta Lee
---
Associate Professor (Senior Lecturer), Director of the Practitioner Doctorate Programme in Sustainability
Biography
Biography
As Director of the Practitioner Doctorate in Sustainability Programme and Associate Professor (Senior Lecturer) in the Centre for Environmental Strategy at the University of Surrey, Dr Lee is responsible for engaging major industry leaders and high calibre postgraduate researchers to work collaboratively on specific research briefs designed to resolve current sustainability issues within industry. This innovative programme offers an unparalleled opportunity, uniting academia and industry to develop solutions that will have enduring value for individual organisations, industry and governance.
Dr Lee has a MEng in Mechanical Engineering and Materials, and holds a PhD in Environmental Systems Analysis from Cranfield University. Prior to joining CES, she worked for Rolls-Royce plc in their Environmental Strategy Department, specialising in Life Cycle Assessment and Design for Environment.
On joining academia in 2003, she spent two years as a Leverhulme Special Research Fellow, investigating the potential for television to influence environmental behaviour of consumers. Dr Lee has a holistic approach to sustainability systems analysis, incorporating environmental and social aspects from both academic and industrial perspectives. She has over 20 years of experience across a diverse range of industrial sectors including aerospace, electronics, construction, agriculture , fast moving consumer goods market, automotive, nano-technology, architecture, and nuclear energy.
Research interests
Her current areas of research interest include natural capital, social life cycle assessment approaches and absolute sustainability/environmental and social planetary boundaries. She is leading research into reducing uncertainty in early design decision making within aerospace, and improving resource efficiency in the electronics industry.
Recent research topics have included:
the development of a risk analysis system to allow the incorporation of environmental issues into the design of highly technically specified products
product based indicators for the environmental assessment of aerospace products.
managing carbon in agricultural fast moving consumer goods supply chains.
the use of activated carbon for independent chilling.
a technical, economic and social study into renewable microgeneration in combination with code 6 housing design
investigating resilient sustainable automotive strategy
sustainable supply networks in construction
managing uncertainty in new technology/material development.
carbon intensity of gaming
Other, more general interests include the application of DfE, life cycle thinking, value chain analysis, and sustainable systems approaches across all industry sectors and governance.
Teaching
Life cycle thinking and approaches
Environmental life cycle assessment (eLCA)
Design for Environment/Sustainability
Departmental duties
Director of the Practitioner Doctorate Programme in Sustainability (PDS)
Supervision of EngD, PDS and PhD research projects
Contribution to MSc teaching modules.
Supervision of MSc dissertation projects
Member of the SEES EngD Management Operating Board and Advisory Board.
My publications
Publications
2016, 'Life cycle assessment of activated carbon production from coconut shells' Arena, N., Lee, J., Clift, R. Journal of Cleaner Production, Vol 125, pp68-77 doi: 10.1016/j.jclepro.2016.03.073
2016, 'A new model for designing cost effective zero carbon homes: minimizing commercial viability issues and improving the economics for both the developer and purchaser'. Khodabuccus, R., Lee, J. Buildings. http://www.mdpi.com/2075-5309/6/1/6/html
2015, ' Uncertainty Communication in the Environmental Life Cycle Assessment (LCA) of Carbon Nanotubes (CNTs)' Parsons, S., Murphy, R., Lee, J., Sims, G. International Journal of Nanotechnology. Vol 12, No8/9, pp620-630
2015 'Redefining scope: The true environmental impact of smartphones?' Suckling, J., Lee, J. International Journal of Life Cycle Assessment, Vol 20, No 8, pp1181-1196
2015 'Finding Balanced Synergies - Putting Resilient Sustainability into Business and Technical Strategy', Winnard, J., Lee, J., Skipp, D., Adcroft, IAFOR Academic Review Issue 8, ISSN: 2188-9570
2015, 'Single product, multi-lifetime components: Challenges for product-service system development.' Wilson G.T., Bridgens B., Hobson K., Lee J., Lilley D., Scott J.L., Suckling J. PLATE 2015, Nottingham, UK, 17-19th June 2015
2015, ' What is value and how can we capture it from the product value chain?' Lee J., Suckling J., Lilley D., Wilson G.T. EcoDesign2015 International Symposium, Tokyo, Japan 2-4 December 2015
2014, 'Surviving or Flourishing? Integrating business resilience and sustainability' Winnard, J., Adcroft, A., Lee, J., Skipp, D.' Submitted to Journal of Strategy and Management, Vol 7, Issue 3
2014, 'Footprinting Farms, a comparison of three GHG calculators', Keller, E., Mila a Canals, L., King, H., Lee, J., Clift, R. Greenhouse Gas Measurement and Management, online. Earthscan
2013, 'Agri-food certification schemes: how do they address greenhouse gas (GHG) emissions? Keller, E., Mila a Canals, L., King, H., Lee, J., Clift, R. Greenhouse Gas Measurement & Management, online. Earthscan
2012, 'Recommendations for assessing materials criticality', LLoyd, S., Lee, J., Clifton, A., Elghali, L., France, C. 2012., Proceedings of the Institution of Chemical Engineers: Waste and Resources Management Vol 165,4, pp191-200
2012, 'Ecodesign through environmental risk management : A focus on critical materials' Lloyd, S., Lee J., Clifton, A., Elghali, L., France, C., Design for innovative value towards a sustainable society, Proceedings of Ecodesign 2011: 7th international symposium on environmentally conscious design and inverse manufacturing pp374-379. Eds: Matsumoto, Umeda, Masui, Fukushige. Springer Press
2012, 'Developing an Economic Led Approach to Zero Carbon Housing Design through Integration and Substitution of Traditional Building Materials', Khodabuccus, R., Burningham, K., Lee, J., Dunster, B., In: International Conference on Sustainable Built Environment, Kandy, Sri Lanka, 14-16 December 2012
2011, 'A framework for environmental risk management', Lloyd, S., Lee J., Clifton A., Elghali L., France C., The Aeronautical Journal , Vol 116, No183
2009, 'Design for Environment at Rolls-Royce', Lloyd S, Clifton A, Elghali L, and Lee J.J. Life Cycle Assessment IX (Joint North American Life Cycle Conference), Boston, MA, USA.
2006, 'Greener Manufacturing, Maintenance and Disposal - towards the ACARE targets', Lee J.J The Aeronautical Journal, November 2006, Vol 110
2003, 'The potential offered by aircraft and engine technologies'. Lee J.J Chapter 7, Towards Sustainable Aviation, Eds: Upham,Maughan, Raper, Thomas. Earthscan.
2002, 'Integrating Design for Environment and Extended Product Responsibility',Lee J.J, Environmental Sustainability Conference and Exposition, Land Sea and Air, 8-10 April 2002, Graz, Austria
2000, ' Sustainable Aviation - the way ahead', Lee J.J, Presented at the 22nd ICAS Conference, 28 August to 1 September 2000, Harrogate, UK
1995 'Minimum Energy and Materials Consumption within Flow Systems and Life Cycle Analysis' Lee J.J, Presented at the ASME 1995 Congress Proceedings, 12-17 November 1995, San Francisco, USA
1995 'Critical Review of Life Cycle Analysis and Assessment Techniques and their Application to Commercial Activities', Lee J.J, Callaghan P, Allen D, Resources Recycling and Conservation, 13, 37-56