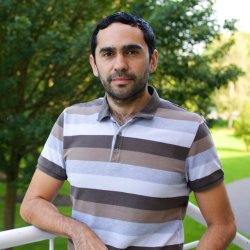 Dr Miguel Flores Sandoval
---
Senior Teaching Fellow
BS Economics; MA Economics; PhD Economics
Biography
Biography
Miguel holds a BSc from National University of Cordoba, Argentina (2001), a MA from ILADES/Georgetown University, Chile (2006), and a PhD from University of Leicester, UK (2013), all in economics.
Miguel joined the School of Economics as a Teaching Fellow in September 2014, and previously he has held a Research Fellow position at the Centre for Competition Policy, University of East Anglia.
Research interests
His research interests lie in Industrial Organisation and more broadly in Applied Microeconomic Theory.
Teaching
BSc Contemporary Issues in Economics ECO1016 (joint with Panagiotis Arsenis)
BSc Intermediate Microeconomics I ECO2045
BSc Economics of the Firm ECO2050
BSc Industrial Organisation ECO3041
MSc Research Methods ECOM027 (joint with Panagiotis Arsenis)
Departmental duties
Affiliations
Associate Member of the Centre for Competition Policy, University of East Anglia.
Fellow of The Higher Education Academy.
Working Papers
24/7
Within-Person and Between-Sample Sensitivity to Dimensions of Risk (with G. Loomes)
Work in Progress
Determinants of Student Salaries in Professional Training Year. (with P. Arsenis)
Video Assessment: first-year undergraduate experience of group project work. (with P. Arsenis and D. Petropoulou)
Research and Working Experience
Miguel has been working with Prof. Waddams (University of East Anglia) and Prof. Loomes (University of Warwick) on Project 1 Consumers which focus on the role of consumers in competition and regulation policy, contributing to the analysis of the consumer survey designed at the Centre for Competition Policy. He has also been working with Prof. Loomes studying whether peoples' subjective probabilities for "real life" events (e.g. crime and personal injuries) are sensitive to scale and time variation, and whether peoples' probability judgements about such events are affected when people receive related statistical information.
Miguel has experience in research institutions and also on consultant projects. He worked as a professional economist at the National Economics Prosecutors' Office in Chile (2006 - 2009), undertaking economic analysis of competitive harm in different industries (e.g. energy markets, grocery stores, air passenger transportation) and also merger analysis. He worked as an economist at the Chilean Chamber of Construction (2004 - 2006) where his research focused on: i) productive and labour changes in the construction industry; ii) forecast techniques in the real estate market; iii) the impact of the monetary policy in the housing market.
My publications
Publications
Miguel Flores and Catherine Waddams
(2018).
The Role of Attitudes and Marketing in Consumer Behaviours in the British Retail Electricity Market. The Energy Journal 39(4): 153-179.
Panagiotis Arsenis and Miguel Flores
(2018).
Student academic performance and professional training year. International Review of Economics Education, Article in Press.
Miguel Flores and Javier Rivas
(2017).
Cash Incentives and Unhealthy Food Consumption. Bulletin of Economic Research 69(1): 42-56.
Miguel Flores and Tobias Wenzel
(2016).
Shopping Hours and Price Competition with Consumer Loyalty. The B.E. Journal of Economic Analysis & Policy 16(1): 393-407.